24 Sep 2010
Transition as a Pattern Language: Arts and Creativity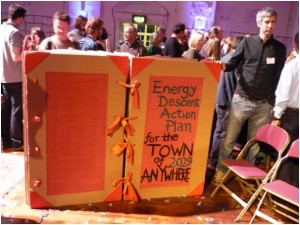 The arts are a vital part of HOW OTHERS SEE US / HOW WE COMMUNICATE, and can make a great difference in terms of how an initiative is perceived. They play a key part in AWARENESS RAISING from the very first events onwards. They also play a key part in the ROLE OF STORYTELLING and producing MEANINGFUL MAPS.
The challenge:
Life without playfulness, creativity and art would be a fairly dire affair. Trying to engage communities in a process of visioning and then backcasting a lower energy, more localised future without engaging creativity would be to miss out on a vast wealth of human experience. A culture shift based on graphs, theories and reports will not get very far.
Core Text
This section will be kept brief in terms of theory, and will be illustrated, as far as possible with examples of the use of arts and creativity by Transition initiatives. The arts have a vital role to play in terms of recording, documenting, challenging, inspiring, communicating and celebrating what is happening in Transition. There is a playfulness in the creativity found in much of what Transition initiatives do which will hopefully come across in this pattern.
Starting with the visual arts, clearly good design makes a big difference in terms of outreach work. Often there will be a good designer as part of your team. If you don't have any good designers offering their input, you could approach a local college which teaches design, or try www.design21sdn.com, a collective of socially-minded designers who might be able to suggest someone to help you. Here is a selection of some of my favourite Transition logos and posters to give you a flavour of how the visual arts could be used. There are many great posters out there, as well as other ways in which the visual arts are used. Hebden Bridge Transition Town, for example, produced a beautifully designed little booklet called "Making a Plan for a Sustainable Town" which were distributed free before their Unleashing.
Beyond the visual arts, various Transition groups have done some fascinating work. For example, Transition Town Shaftsbury were part of the 'Tipping Point' eco-circus, which used music, crafts and clowning to communicate climate change to a young audience . Transition Town Tooting's 'Trashcatchers Carnival' was an amazing community event, involving local schools, mosques, temples, churches and other groups to make, entirely using local materials, a street carnival to celebrate the Earth. They used around 1 million used plastic bags, half a million crisp packets, and lots of other materials that would otherwise have found their way into landfill to create a vibrant, colourful celebration that could only have come from that particular very diverse community.
Transition Town Tooting, together with some of the other London Transition groups, also developed the 'Energy Descent Plan in 2 Hours' performance , an amazing way of communicating Transition using participatory theatre. The performance takes an audience in an interactive way through the 12 Steps of Transition, and was first performed at the LIFT Festival on London's South Bank in 2008. It uses large props and a broad range of activities and at its conclusion, the audience has created a rudimentary Energy Descent Action Plan for 'Transition Town Anywhere'. It was performed at the 2009 Transition Network conference, and was a huge success.
Many Transition initiatives form their own Arts group in order to really embed the arts in the work of the organisation. For example, the webpage for the Transition Town Totnes Arts Group (TTAG) offers a good taste of what they do , and Transition Town Romsey do similar work, securing some funding to support their work. Transition Town Oswestry runs a project called Footfall which includes art by local children which is then displayed in local empty shops. Transition Town New Cross in London are part of the Carbon Chronicles Art Project which is a collaborative opera involving people from across the arts and blending science, myth and politics.
The solution:
Wherever possible, try to engage the arts in the work of your Transition initiative. Make your posters and materials beautiful and well designed, work with artists to design events and installations that shift peoples' perceptions of what a Transitioned world would be like, and also try to embody the idea that the everyday can be beautiful. Be bold and bright, the arts can make people think about issues like Transition in a completely different way. As French sculptor Jean Dubuffet put it, "art does not lie down on the bed that is made for it; it runs away as soon as one says its name; it loves to be incognito. Its best moments are when it forgets what it is called."
Connections to smaller patterns:
The Arts can make VISIONING exercises much richer and more useful, being used in order to help bring visions of the future to life. The question of what a powered-down future could look like, feel like, sound like and smell like could be powerfully addressed through a range of different media. It can also mean BECOMING THE MEDIA, documenting what your initiative does in a creative way which can help hugely with your AWARENESS RAISING.
***
Please leave feedback and comments, suggestions for alternative pictures, anecdotes, stories and projects for this pattern here.