3 Nov 2011
Transition Culture Melt-in-the-Mouth Pumpkin Pie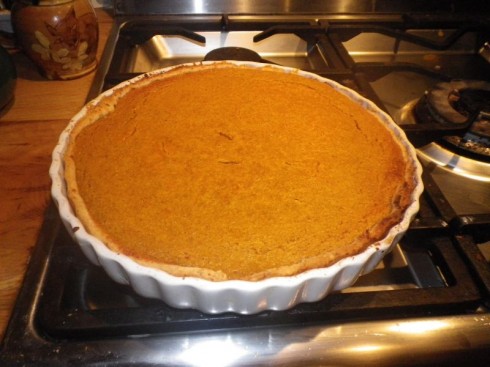 Having spent the couple of nights before Halloween hollowing out several pumpkins and ending up with mountains of orange flesh, finding something to do with it all was a challenge.  The kids had tired of pumpkin soup, so it was by good fortune that I chanced across this recipe for pumpkin pie (in Carey and Large's book 'Festivals, Family and Food'), and I'm smitten (and so are the kids)!  It's easy to make, makes your kitchen smell amazing while it's cooking, and it tastes great.  So here's how it works.  You will need:
1 flan dish thing 10″ across, greased and lined with shortcrust pastry
15oz of thick pumpkin puree (lightly steam it for a few minutes and then blend)
3 eggs
8oz sugar
1/2 teaspoon of salt
1 heaped teaspoon of cinnamon
1/4 teaspoon of cloves
1/2 teaspoon of nutmeg
A splash of double cream (or you could use evaporated milk)
The juice and rind of a lemon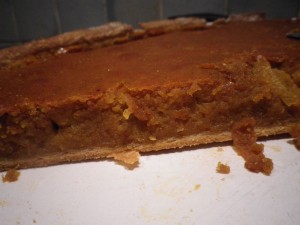 So, when your pie dish is ready, mix together the eggs, sugar, salt, spices and lemon, beating them well.  Then add your pumpkin puree and then the cream.  Pour it carefully into the pie crust.  Now the trick of baking it is that for the first 10 minutes it needs to be at 450°F (230°C), and then after 10 minutes reduce it to 350°F (170°C) for 40-45 minutes.  You'll know it's ready when a knife in the middle comes out clean.  Serve with icecream, cream or creme fraiche.  You know it makes sense.