14 Jan 2006
Bernard Lietaer's Talk at Schumacher College – 'The Future of Money'.
I was fortunate enough to attend a talk by economist **Bernard Leitaer** at Schumacher College the other evening. He was teaching part of their The Future of Money course, and, in the Schumacher tradition, offered a public talk one evening. Leitaer is author of, among other things, The Future of Money, and is widely regarded as one of the experts on alternative currency systems. These notes are compiled from my notes, so any mistakes are due to my poor notetaking ( I was sat on the windowsill at the back!). Much of what he had to say is very relevant to those of us working in the field of localisation and energy descent. He is a powerful and extremely knowledgable speaker.
He began by asking how many people in the room were working in the field of sustainability (many hands), and then asked for how many of us it felt like struggling against a tide (as many hands again). Did you ever wonder what that tide is, he asked? It is the money system, but like a goldfish who can't see the water he is in, we can't see the system that we are in. The current system is programmed, albeit unconsciously, against sustainability. However, we do have a choice, to create the environment that we really want. He gave four aspects of the unsustainable money system.
1. Short termism – most banks and businesses think no further ahead than the next three quarters.
2. Compulsory growth – everything in the economy has to keep growing faster than the interest rate…
3. The more developed an economy, the more the community within it is damaged.
4. Delocalisation – local networks and systems are destroyed by national currencies.
Most of these things are very powerful but we don't see them. He then gave two examples, one negative and one positive. The negative example was Ghana. When it became a British colony it was a sustainable and self supporting economy. The British, rather than force people to buy British goods introduced a nationwide currency and charged everyone a tax of 2 shillings, known as the 'Hut Tax', which was payable by each household. Because it compelled people to trade beyond their communities the local economy collapsed within a couple of years. **Regional sustainability, he said, and this is the bit from the whole evening that most struck me, is impossible with a national currency. It is a contradiction in terms**.
The good example is Bali. People are happier, they work less, are more artistic….so what is different? They have dual currencies, the national currency, the dollar, which is used for export activities, and the regional one, called 'temple time' which is for community activities. Generally each adult is expected to give one-third of their time to temple time. This can be traded and provides labour for many community projects and rituals. This system has worked successfully for at least the last few thousand years.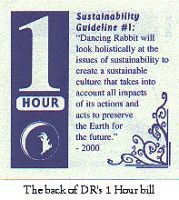 Having just one currency he said is like having only 1 leg, we need 2 in order to be able to walk. He then asked the fundamental question, what is money? The conventional economic definition tells you what it does, not what it is. Leitaer's proposed definition is "an agreement within a community to use something as a medium of exchange".
There are three kinds of money, he said.
1. **Fiat Money**, is created out of nothing. It is lent into existence by banks, and forms all national currencies. The security of the system needs to be maintained by an authority to avoid inflation.
2. **Complementary Currencies**, differ from alternative currencies in that they can operate in parallel with national currencies.
3. **Mutual Credits.** These are systems like LETS, and are a currency created by the participants themselves.
The Fiat and the Complementary currencies would work alongside each other, the Fait facilitating trade and commercial transactions, the Complementary currency building a co-operative regional economy. Neither one replaces the other, they work alongside each other, providing what Leitaer called a balance between male and female values.
The one system that most people think of as alternative currencies, LETS, only works with groups up to 500 people before splitting down into smaller ones, in Germany complementary currencies are now being designed for up to 1 million people. In Japan a system called LOVE (Local Values Exchange) runs, which uses a credit card style system.
He then asked 'why now'? Why should we now be working to create these currencies now? He quoted top American banker as saying recently "there is a 75% chance of a hard landing for the dollar over the next 5 years", and Steve Roach, who said "there is a 90% for a dollar armageddon". We need to build economic resilience into the system as we are more vulnerable than many of us think.
Local currencies offer a learning tool for the creation of social networks. He asked which local currency is already working in the world, has an annual turn over greater than that of dollars? The answer – frequent flyer miles! I asked him if he felt the Euro (of which he was one of the designers) was better than the pound, a national currency better than a Europe wide one. He said he felt the Euro was better, but it needed to be complimented by regional and local currencies too.
**Lietaer's main book until now is "The Future of Money". He has a new book, "Of Human Wealth – new currencies for a new world" due out later in 2006. I found it a very useful talk. For me he reminded me of the importance of seeing economics as a key part of designing relocalisation approaches. I talked to him afterwards, and gave him a copy of the Kinsale plan. He was very impressed and agreed to meet up with me in a couple of days to discuss it further. I will write up an account of that in a couple of days, it was very insightful too.**