17 Jan 2006
Hemenway – Urban Versus Rural (slight return).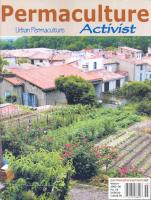 I wrote back in November about Toby Hemenway's article on urban versus rural sustainability which had had such a profound effect on me. You might like to read his follow up article to that one, called **'Cities, peak oil, and sustainability'**, which builds on the previous one, and responds to some of the criticisms the first one has received. For me he hits the nail on the head again. The article appears in the Permaculture Activist, surely the finest publication on the face of the planet. If you don't subscribe and you are in any way interested in practical solutions and inspired thinking for saving the planet, you are missing out on a great deal. Toby's new website is **www.patternliteracy.com**.
You might like to check out In the Wake where Aric McBay has a go at Hemenway, mostly, in my opinion, on quite picky grounds. McBay's argument is very much an 'either/or' kind of approach, but really, at the end of the day, this is a bigger issue than urban OR rural, at the end of the day its not like we can choose one or the other, surely it is a case of sustainable rural economies supporting and being supported by sustainable cities. We cannot argue that ONLY cities can be sustainable or ONLY rural communities can be sustainable, we either have both or nothing.
What I like about Hemenway's approach is how he challenges the perceived belief that we should all move to the countryside and all will be fine. Every new issue of the Permaculture Magazine seems to contain a story of someone moving to find their piece of heaven in rural Spain, by implication leaving the rest of us to stew in our own juice. Saturday's Independent was similarly full of places to invest overseas to get your 'piece of heaven'.
I really like Hemenway's honesty about the realities of moving to a rural community, which, although they are of course only his experience and are not universal, still confront a few sacred cows and resonate deeply with my experience. McBay argues that Hemenway is rosy about cities and that cities are not going to be nice places to be post-peak, which is also true. We need energy descent approaches for rural and urban areas, bioregional watershed planning which includes both in a coherent whole. Love him or loathe him, Hemenway has certainly got people talking about the issues.