19 Jan 2006
'Real Oil Crisis' – Australian Peak Oil Documentary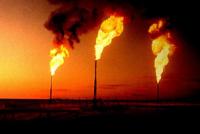 You must check out this excellent new documentary produced by Australia's ABC Television, called **Real Oil Crisis**. A very good and rounded overview of peak oil, (and at 12 minutes long it is good for people whose attention spans couldn't quite stretch to The End of Suburbia…), with Jeremy Leggett being the main 'early peaker' spokesman known to those of us outside Australia.
I was particularly struck by Prof. Peter Newman, a transport academic, who is talking to the presenter about hydrogen buses, and he says "the next 20 years are an absolutely critical point where I don't know that we can make it. I just feel we haven't started soon enough". The tone in which he says it, with a kind of weary resignation as he sat there on his shiny new hydrogen powered bus really touched me. Does anybody know if this is available on DVD anywhere?
Thanks to Davie at Sustainable Ireland for bringing this to my attention.