24 Feb 2006
Reflections on EcoBuild at Earl's Court 2.
EcoBuild is the biggest green building exhibition in the UK, and ran over 2 days, 22nd and 23rd February. I went up for the first day, to give a talk called 'Designing for Transition'. The event was in a huge hall and was very well attended. There were hundreds of stalls, everything from Government Agencies to community development groups and from architects to solar energy companies. It was great to see that the mainstream is starting to take the concept of more sustainable building seriously, and that so many people from within the industry attended. It was heartening to observe the diversity of people who attended, and the degree to which people were aware of the need for changing current practices. There were some wonderful things, some of which I'll touch on over the next few days, but in this post I want to touch on one of the things that struck me most, the prolific abuse, in my eyes, of the word sustainable.
I was deeply struck at what a pure focus on climate change permits, and how once you add peak oil to the equation, those things that appeared sustainable are no longer so. Here are a few examples that particularly struck me. Canada Wood, a company who argued that wood imported from Canada to the UK was an environmentally friendly sustainable option. All manner of horrible concrete stuff, from an insulated floor system with polystyrene blocks set in a concrete framework (see right)to a really crappy thing with these kind of precast concrete lego blocks which slot together to make retaining walls which allegedly resemble stone (below left).
There was a horrible log house system, with the most atrocious Disney style houses which would be totally out of place anywhere in the UK, infact anywhere apart from Disneyland (see below right). The logs all slotted together, but the rep said would need insulating on the inside anyway in order to make it sufficiently energy efficient. It seemed like a vastly inefficient use of wood to me. It could have been milled down smaller and used far more effectively. None of the wood was from the UK either.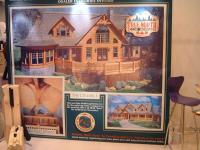 There were so many things presenting themselves as 'green' or 'eco', yet one has to wonder how they will continue to exist when oil costs $150 a barrel. Apart from a few notable exceptions which I will discuss over the coming days, very little was manufactured in the UK, and very little was 'natural' or 'local' rather than 'green'. Two of my favourite quotes I observed as I moved around were;
>"If concrete were to be invented now it would be hailed as a miracle