6 Mar 2006
"Revenge of Gaia" – James Lovelock Speaks at Dartington.
Last Friday I went to see James Lovelock speaking to a packed Barn Cinema in Dartington as a promotion for his new book "The Revenge of Gaia". The evening was, as I expected, one of mixed emotions, although ultimately I found it deeply frustrating. Lovelock is of course best known as creator of the Gaia theory, that of the Earth as a self-regulating organism. The original book on this theory had a profound effect on me. Seeing him last night, telling us that we are all doomed, and nothing we can think or do will have the slightest effect, felt a bit like seeing a band whose first album completely changed your life and became the soundtrack of a part of your history playing, ten years later, in Butlins, all flabby and sweaty and directionless. The most dynamic and insightful thing that came out of his talk was the discussions in the bar afterwards, which offered far more hope and possibility.
He began his talk by saying that he had decided to write Revenge of Gaia when he became aware of the scale of the problem of global warming after a visit to the Hadley Centre near Exeter, one of the world's foremost climate centres. The sober and detached way the scientists told him of the various processes underway in the world, almost as if they were talking of a different planet, shocked him. He talked of the various feedback loops that are starting which will speed up climate change, and that the Earth has 'caught a morbid fever that will last 100,000 years". In the same way that when a human has a fever their self regulation mechanisms go awry and do the opposite of what they are meant to do, the Earth is starting to act in ways that go against self regulation.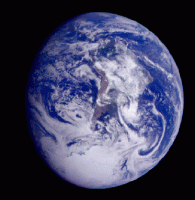 He spoke of the 'global dimming' phenomenon, caused by particulates in the upper atmosphere, mostly from air travel, which ironically keeps the earth 2 – 3 degrees cooler than it would otherwise be, in effect, he said, we live in a 'fool's climate'. He repeated his belief that in 100 years there will be only a few breeding pairs of humans living in the Arctic Circle. He then moved on to what can be done about it. He said that the challenge is to to sustain life for as long as possible. We can't just turn the power off, we need to facilitate a gentle descent. The UK is like a large city he said, dependent on the developing world for food. We can grow enough food to be able to live like we did in World War Two, but that would not lead enough land for growing biodiesel. Even if we did our best, it is unlikely that the US and China will adapt, so we have to face the fact that our children will need to adapt to 'one hell of a climate'. Humanity, rather than being a disease on the planet, needs to act as its nervous system, we should be the heart and minds of Gaia, and act now while we are still a cohesive mass, rather than a broken rabble.
The most useful part of the evening was the questions and answers session that followed. He was asked about renewables, and he trotted out the tired and entirely redundant argument that the countryside is for growing food and the city for people to live. It was criminal, he said, to put wind turbines in rural areas, "we'll need every inch of land to grow food on". This is complete nonsense, why on earth are windturbines and agriculture mutually exclusive land uses? Wind turbines are usually sited on marginal land only good for grazing anyway. His 'urban/rural' split failed to take into account the fact that cities can be net producers of food, seeing cities as farms, in many ways they are the ideal places to grow food, more shelter, more immediate markets, nutrient cycles, as can be seen in Cuba. The recent book Continuous Productive Urban Landscapes (review pending) sets out this concept very persuasively.
He argued that nuclear power is the only realistic way to power the transition, although I was interested to hear, contrary to the impression I had of his position, that he was not advocating a programme of new nuclear power in the UK, rather simply not decommissing those that are due to be closed in the next 10 years.
He said that we have passed the point of no-return, and that basically whatever we do now will have no effect. Another area that I disagreed with him strongly on was his assertion that people know something is looming, but will do nothing until there is a crisis, a shock. He said that Government will not act in time, but that we need leadership which is real and purposeful, we need, he said, "good generalship". Ultimately he felt people are not going to act, so we are finished. I feel that the critical mass of people who are aware that there is a problem is already in place, what is missing is the mechanisms to do anything about it. If you have 2 kids, a mortgage, and job and are running furiously in order just to stay still, it is not a realistic option to stay home and grow carrots…. . As I have often written at **Transition Culture**, we need to build the infrastructure for a post-carbon world around people in such a way that it is relevant to them. Buckminster Fuller put it very well, ""you can never change things by fighting the existing reality. To change something build a new model that makes the existing model obsolete