27 Mar 2006
Celebrating a Monumental Cob Achievement
Some things in life need to be acknowledged and celebrated. My dear friends Thomas and Ulrike who are now running The Hollies Centre for Practical Sustainability have, after a 3 year building process which I'm sure at times must have felt like 10, finally moved into their cob home. It has been the most extraordinary adventure, and the end result is one of the most beautiful buildings in the world, and one which is an amazing demonstration of natural building materials and their potential.
The house has local stone foundations, pointed with lime, a limecrete internal floor screed, cob walls made from local subsoil and local straw, the floors and the roof are made with local timber, as are most of the windows, the plasters are made with clay from a nearby bog and local straw, the roof is tiled with slates made from recycled car tyres, and the heating is done by a masonry stove. It also has hemp and lime plasters on the north-facing walls, lath and plaster ceilings, solar panels for hot water, and clay floors downstairs. They even made their own paints as well. If ever a project could be said to be a labour of love and a truly local and sustainable structure, this is it.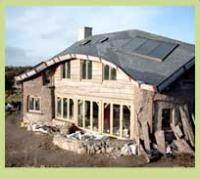 The house is a model in many ways, not least for the fact that if you are doing something like that, people will come and help. The amount of volunteer input that went into the house is staggering, indeed often volunteers were turned away as there was so much interest. Building a hand sculpted house is a very different process to building a more conventional one. It may take longer, but the end results are unique and have what Christopher Alexander called 'the quality with no name', the 'Timeless Way of Building'.
Clearly for me there are mixed emotions on seeing their house completed. Had fate not intervened spectacularly one cold and starry evening in October 2004, Thomas and Ulrike would still be our neighbours, and we too would be living in our hand-made home. In many ways we have moved on, and no longer grieve that loss as we once did, but of course to see one's dreams shattered like that is something that you always carry with you. I am now able to see that where we are now is perhaps where we can be most useful, and that in many ways it has been a good transition for us, but of course we will always feel the deepest connection to The Hollies and all that has been achieved there.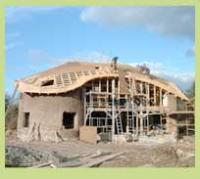 Above all I feel the deepest joy that two such dear friends who have worked so hard through some very difficult challenges, have finally achieved what they set out to do 8 years ago. They have every reason to feel very proud of what they have created. It was one of the deepest privileges of my life to have been able to travel a part of this extraordinary journey with them. At this point of their moving in, I want to honour that, and wish them every happiness in their new home.
The Hollies are running a short programme of courses in 2006, including a cob building weekend with Thomas and a 10 day cob building course with Linda Smiley and Ianto Evans from Cob Cottage Company, which is really one not to be missed. Their previous courses at The Hollies have been life changing experiences for the participants, and will transform your concepts of building spaces.