24 Mar 2006
An Energy Descent Research Project for Someone…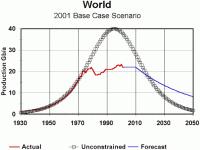 One of the things that strikes me as an essential part of researching energy descent plans is the question of when different things become viable as energy availability decreases (and thereby price rises). For example, at the moment it is not viable to start a market garden in the middle of Totnes, as it could never produce food at a price competitive with the supermarkets. However, at some point, the price of oil will be such that it will become viable. Likewise, at some point it will actually become cheaper to grow fabric locally, to start making affordable furniture locally again, to start building houses from local materials, and so on. If we can take the most likely depletion profiles as our starting point, it should be possible to estimate roughly at which point the various things become viable. This would provide an essential backbone to our Energy Descent Action Plans.
If, say, food becomes economically viable in 3 years, building materials in 7 and fabrics in 10, then that gives us a very useful basis on which to start preparing for these various things. Unfortunately, I have almost no mathematical ability, even though, ironically, I am nearing the end of an MSc in Social Research, which has a large component of statistical analysis. Luckily in the main it is about learning to interpret results, rather than understand them, so I have scraped though thus far. The obsession with statistics in Social Research without any ethical foundation of actually using them to do anything useful always brings to mind the line from Gary Snyder's poem 'For the Children', "The rising hills of statistics, going up, up, as we all go down".
Clearly I am not the man to do this research, but someone ought to, it would be a really important project. Please do let me know if you know of any research already looking at similar subjects, or if you feel able to undertake such a thing. Feels to me like an essential piece of the jigsaw puzzle.