10 Apr 2006
OOH It makes me so CROSS (seethe, seethe)
Listening to Friday's Any Answers programme from Norfolk while I did the evening washing up, I was incensed, nay, incandescent, to hear the reaction of some of the audience to a question about wind turbines. The school that was hosting the programme had apparently applied to put a wind turbine on its roof. When one of the panellists said that they thought that having a wind turbine on a school was good for the environment, and also good for the children to see their school walking its talk, he was booed! Booed!
I struggle with ignorance of such proportions. Clearly there are places you wouldn't erect a wind turbine. On the centre spot in the new Wembley Stadium. On top of Stonehenge. Along the shore of Loch Ness. In a huge clump of dozens of them smack in the middle of some beautiful wild landscape painted by Turner. In the front garden of William Shakespeare's old thatched cottage in Stratford. But we really must get a great deal more realistic and urgent about where we actually DO put them.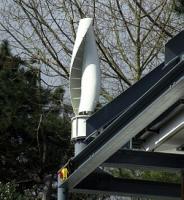 There are some places where to put a wind turbine would do everyone a favour. One could replace the memorial fountain to Princess Diana that has caused so much trouble with something she probably would have had far more sympathy with. Along the tops of the Thames Barrage. On the roof of the new Wembley Stadium. Down the central reservations of the motorways. In fact I was walking around in Plymouth city centre today in the wind thinking that some of those really cool vertical axis turbines (see right) could be installed in the town centre as an 'art installation'. They'd generate some power, and look great. With a bit of imagination, there are endless places where smaller turbines could be sited.
Let's get real here. We need as many of these things as possible, in as many places as possible. I have absolutely no time for these people who say they are a waste of money, they don't work and they are ugly. It is a matter of scale. Some turbines are too big and too imposing for certain places. But in the main, we need them wherever we can put them, and we needed them there 15 years ago.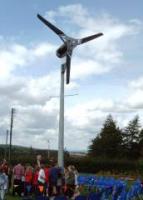 Peter Harper wrote a letter to Resurgence magazine a couple of years back which, apart from the fact that he had gone all sort of pro-nuclear which rather took me by surprise at the time, set out the best most impassioned case for wind turbines I have yet read. I copied it and gave it to all my friends. He writes;
>Personally I entirely agree that wind farms are an insult to delicate scenery. But there's something ethically dubious here. As I lie awake at night wondering what we are going to do, I cannot possibly think that my aesthetic preferences, however strong, have any weight when compared with 'Bangladesh'. Perhaps some artful moral philosopher will help me out here, but for the time being I cannot look any 'Bangladeshi' in the face and at the same time oppose the siting of wind farms wherever the wind blows. That would be morally intolerable. It would be saying: "Stuff you, and your family, and your community, and your nation, and your landscape and your heritage, and your regional biodiversity: my refined feeling for scenery comes first." Sorry, I can't manage that one.
>He goes on to rationalise his thinking thus;
>1) Since the UK produces far more than its fair share of current carbon emissions, and since its historical contribution to the problem has been even greater, isn't there an element of poetic justice in its having to pay in coin that it holds particularly dear? Wind farms get you off a nasty moral hook. One might be aesthetically disgusted, but not morally disgusted. I find that a slight improvement.
>2) For this very reason it sets a good example. It says to the world, "We take this problem seriously and we will take steps to internalise the environmental costs of our energy systems, in spite of great sacrifices." The fact that wind energy is so ugly and conspicuous actually reinforces our national stand and helps to turn the world around. Thereafter the UK takes the environmental impacts of its energy production upon itself and tries to resolve the conflicts within its own polity.
>3) It does not have to be permanent. A wind turbine can be dismantled in a day, a wind farm in a month. The foundation pads and underground cabling might remain, but they are relatively inert. Their long-term environmental impact is…well, I just compare it with 'Bangladesh' and stop whingeing.
>4) I can think of a medium term strategy in which the British landscape is 'borrowed' for fifty years to help prevent the appalling alternative of 'Bangladesh', while the more difficult, expensive and slower-developing technologies come up to speed. At which point the wind farms come down (phew!) and are replaced by tidal barrages and tidal-stream installations, wave-capture devices, biomass combined heat and power (CHP) plants, geothermal heating, and photovoltaic arrays on every building. This bears comparison with wartime values, where huge areas of the UK became airfields, tank-traps, potato-plots, firing ranges, training-grounds, ammo-dumps etc.…and then we got it back later, admittedly with a few fingers missing, but nobody would dare say it wasn't justified.
>That does it for me. To campaign against a wind farm would be dicing with the lives, livelihood and environment of millions in 'Bangladesh'. I can't do it.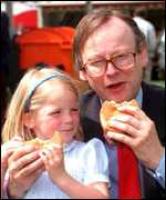 John Gummer, originally a vile Tory minister, the one who fed his daughter a beefburger on national television (see left) in order to convince us that eating beef was safe, actually was really good. A bit like Michael Meacher, once he left office he became a really well-informed passionate environmentalist. Much as I struggle to find myself praising a Tory on this website, he was actually really good, saying that not responding is not an option to climate change. He managed to shut up the booers and put it all in a bit of perspective. Quite how that audience would have responded to you or I telling them that the time had come to powerdown the economy we shall just have to imagine for now. They represent the culture of denial. I sit here utterly bamboozled as to how someone could object to a school putting up a wind turbine. Surely they should be dancing for joy.