27 Apr 2006
Fuelling the Future DVDs Now Available from PowerSwitch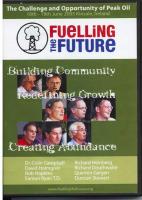 Fuelling the Future was a 2 day conference that I intiated and, with a wonderful team of co-organisers and a larger team of lovely volunteers, made a reality in Kinsale last summer. I still meet people who talk about the event as one of the most uplifting they had ever been to. For me it was a kind of parting gift to Kinsale, as I was about to move to the UK, and it was also an opportunity to invite some of my heroes to what my idea of a peak oil conference was (inspired, albeit at a distance, by the Community Solution conference in Oregon).
It all came about when I heard that David Holmgren was to be in Europe that summer, and then later that Richard Heinberg was in Dublin around the same time. Once I had established that David wanted to come, and that we could 'borrow' Richard for a few days from the organisers of the Dublin event, I knew we had the basis for a great event. Their books, notably "Powerdown" and "Permaculture: principles and pathways beyond sustainability" had been hugely inspirational for me that year, and had been the main triggers for the Kinsale Energy Descent Action Plan intiative. The opportunity to have them in Kinsale was unmissable.
As we began to explore the possibilities, everyone we asked to come and speak was delighted to do so (although Jim O'Connor unfortunately had to withdraw owing to needing an operation, meaning we were denied the opportunity to see his planned show-stopper, the driving of a 1950's tractor down the central aisle during his talk). We also wanted to get away from the 'bums-on-seat-while-the-experts-hold-forth" model, and so designed the event with a number of breakout sessions, which gave us the opportunity to invite lots of local people with skills in this area. The collection of speakers was really good, covering areas from economics and energy to natural building and communication skills. The sun shone, everything ran like clockwork, the event broke even and even made a little profit, and the atmosphere was one of positivity and a shared sense of excitement.
My stand-out memories of the weekend are;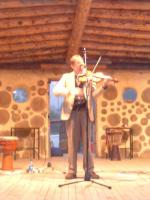 1. The Open Mike evening in the amphitheatre, especially Richard Heinberg playing the violin (see left) and a girl, whose name escapes me now, singing "I've Got a Brand New Pair of Rollerskates" in this great squeaky voice that barely made the high notes yet which was really beautiful.
2. A complete power failure about 10 minutes into Richard Heinberg's first talk (due to an overheated plug) which somehow was perfectly timed to illustrate his point about how dependent on oil we have become.
3. Sitting on the grass with David Holmgren and others at lunchtime, and someone asking him a question (I don't even remember what it was now), and his going off on a 3o minute talk packed with insight and fascinating information, me thinking "is no-one recording this, I should be writing it down!"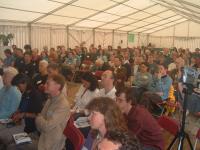 4. The sense of horror of arriving at the college the day before the event to do the last bits of organising to find that the college caretaker, in a well-meaning attempt to 'tidy the place up a bit' in time for the conference had sprayed RoundUp on all the paths and weedy places, so that it had all just gone yellow in stark contrast to the green on the grass (yes people did notice).
5. Colin Campbell's wife Bobbins saying at the very end how "being married to Doctor Death (Colin's nickname) I go to a lot of these things, and I never before left one feeling so positive".
6. The sense of childlike excitement that myself and the other organisers had throughout the whole thing of having the speakers we had dreamt of having there in the college grounds.

7. Richard Heinberg arriving jet-lagged and exhausted, wanting just to sleep, agreeing very kindly to come to the college rather than go to his B&B to do an interview with a film crew from RTE who were doing a film about the permaculture course at the college. He gave them a 15 minute interview about peak oil, and shortly afterwards, a similarly exhausted David Holmgren was also interviewed. The interviewer really had no idea who she was interviewing, and when, a month or so later, the film was screened on prime time Irish television, Heinberg was nowhere to be seen, and the only clip we saw of Holmgren was of him eating pizza! One day someone in the archives room at RTE will discover this historical and important footage…
A 2 disc DVD of the main speakers was produced by Fergal Mohan from Cork, which has sold out, but those lovely folks at PowerSwitch have taken it on to get some new copies done and give it a big push. My favourites are both of Richard Heinberg's presentations, Colin Campbell's, David Holmgren's, and Quentin Gargan's (which is quite wonderful). You might also enjoy seeing your **TransitionCulture** host waxing lyrical about cob building and building miles. Do get a copy, it is very inspiring, the talks are short enough to hold peoples' attentions and are a great follow up to the 'bummer effect' of the End of Suburbia. You can download audio files of all the speakers here, including the very moving "when I get home I am going to…" audience participation session at the end which doesn't appear on the DVD. There are no plans for an FTF2 for 2006.