3 May 2006
Why Nuclear Power is a Non-Response to Peak Oil – Part 2…. because this is The Only Chance to Get It Right…
My first reason why nuclear power is a non-response to peak oil is that it will take the steam out of the profound and far-reaching renewables revolution which is the only thing that will actually get us through peak oil. In the long run, we need to restructure society so that it becomes more local, with local food production, decentralised energy grids and so on, as has long been argued at **Transition Culture** . This is the ONLY thing that will pull us through. Nuclear power offers the illusion that "something is being done", and takes the steam and the necessary funding out of the urgency to start the programme of profound change needed.
The structural relocalisation of the UK, the retrofitting of its buildings, the stimulation of new local businesses and manufacturing and so on will be expensive, and now, while there is still electricity, while the (albeit diminishing) wealth from the North Sea bonanza is still in the economy, and while we are not in a crippling crisis, is the time to do this, on the scale, as many writers have argued, of a war time mobilisation. A new programme of nuclear power will draw away funding from that.
Peak oil appears to be happening far faster than predicted, and actual shortages of fuel appear to be a possibility in the near future. The dream of shiny new nuclear reactors in 20 years time is a distraction with which people can delude themselves that business as usual can continue. It can't. Really.
We have to begin the Great Reskilling and profound relocalisation, and we have to start now, applying all the resources we have at our disposal. This is our once off window of opportunity, one which nuclear power would close for good. By the time we realise that we have made a mistake it is too late, the economy is contracting, we have other priorities like feeding ourselves and so on, and the ability to make all the equipment needed will have passed.
What will almost certainly emerge from the UK Government's Review of it's Energy White Paper will be a commitment to renewables, saying all the right things about renewables, but arguing that a certain amount of nuclear needs to be kept to provide an ongoing 'base load'. A certain amount of money will be invested in renewables, but not enough because there will be an underlying assumption that business as usual will continue. We have a unique window of opportunity and we should seize it with both hands. Nuclear offers a very dangerous and illusory distraction.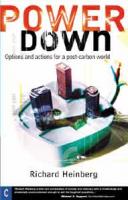 In terms of the four future scenarios Richard Heinberg sets out in 'Powerdown', (Last One Standing, Waiting for the Magic Elixir, Powerdown and Building Lifeboat), a resurgence of nuclear means we can kiss Powerdown goodbye, we'll be adopting Waiting for the Magic Elixir but in reality Building Lifeboats will be our only remaining option.