21 Jun 2006
Lovelock's Folly – A Book Review by Albert Bates.
**Albert Bates**, still the presenter of the single most inspiring talk I ever attended (Findhorn 1995, GEN conference, for any speech nerds out there…), has written an excellent review of James Lovelock's 'Revenge of Gaia'. Having a background in permaculture, ecovillages and also in many years campaigning against nuclear power, he is in a unique position to deconstruct Lovelock's thinking. His review is respectful where necessary, and shows a deep understanding of the subject matter. It is by far the best review of it I have so far read.
**The Revenge of Gaia: Why the Earth is Fighting Back — and How We Can Still Save Humanity**
A Review by Albert Bates for The Permaculture Activist, Spring 2006
*It is much too late for sustainable development; what we need is a sustainable retreat*. – James Lovelock
James Lovelock turns 87 in 2006 and wants to take another turn around the book signing circuit before he bids adieu. After that he can leave his Devonshire cottage and go into the West as Middle Earth passes out of the age of elves and men.
Picture Lovelock, clad in sandwich board, standing on Hyde Park corner declaring that the end is nigh. Forecasting the future is not something many scientists attempt, and setting a firm date for say, a mass die-off of the human population, is hardly even scientific, but Lovelock does, and that date is 2056 to 2081 (in order to be witnessed by our children or grandchildren). The Revenge of Gaia is both a tour de force and a sad collection of the rantings of a crazy old man.
Too many variables stand between here and 2056 to make me comfortable with that prediction—the waning of 11, 80, and 200 year solar cycles, the slowing of the Atlantic conveyor, Peak Oil, and a plethora of permaculturists making soil and planting trees, to name a few.
At its low points, Lovelock's stridency in postulating arguments—on the side of fission, fusion and synthetic food, against organic farming, environmentalists, solar and wind energy—to his real and imagined critics, reveals a lack of deeply seated confidence in his own positions. By contrast, when he is in his element, he is a stolid font of higher wisdom and a gifted educator.
An example of the weaker Lovelock is his suggestion that wind power is impractical because it would take 39,900 three-mW turbines to power the UK (although Germany had 40,000 windmills in the 19th century); that so many windmills would change the climate (the wind dissipation is about 0.7% of the total actual dissipation caused by the land or water surface under the windmill); and that windmills kill birds (less, actually, than house cats, and only if poorly designed and operated).
The stronger, beatific Lovelock observes that the fact that animals dispose of excess nitrogen in a plant-available form as urine, rather than conserving water by exhaling it as nitrogen gas, cannot be explained by Darwinian evolution. Unless you tilt in the direction of intelligent design, you have to accept that we piss out our vital water and then have to go in search of more because Gaia prefers mammals to make the nitrogen available for plants, which in turn feed us and supply our oxygen. It's symbiosis.
Lovelock is a master of the pithy analogy. Some examples:
*We are now approaching one of these tipping points, and our future is like that of the passengers of a small pleasure boat sailing quietly above the Niagra Falls…*
* * *
*It is almost as if we had lit a fire to keep warm and failed to notice, as we piled on fuel, that the fire was out of control and the furniture had ignited*.
* * *
*We are like the smoker who enjoys a cigarette and imagines giving up smoking when the harm becomes tangible*.
* * *
*We are already farming more than the Earth can afford, and if we attempt to farm the whole Earth to feed people, even with organic farming, it would make us like sailors who burnt the timbers and rigging of their ship to keep warm.*
* * *
*We are like passengers on a large aircraft crossing the Atlantic Ocean who suddenly realize just how much carbon dioxide their plane was adding to the already overburdened air. It would hardly help if they asked the captain to turn off the engines and let the plane travel like a glider by wind power alone. We cannot turn off our energy-intensive fossil-fuel powered-civilization without crashing; we need the soft landing of a powered descent.*
* * *
*The humanist concept of sustainable development and the Christian concept of stewardship are flawed by unconscious hubris. We have neither the knowledge nor the capacity to achieve them. We are no more qualified to be the stewards or developers of the Earth than are goats to be gardeners*.
* * *
*We are like a careless and thoughtless family member whose presence is destructive and who seems to think that an apology is enough*.
One of his few and well-chosen graphs takes a page of predictions from Stephen Schneider's seminal 1989 book, Global Warming, and marks us somewhere between the middle and upper line of damage, or right on track to cross a point of irreversibility by the late 21st century.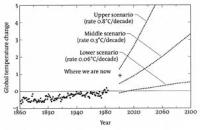 Lovelock says that Gaia probably has at least two states of repose, one colder and one warmer. We have been in the colder realm for the past fifty-five million years and might have lingered in our cool world longer had we not broken into the storehouse where Gaia had been putting the excess carbon she had wrung from the air to keep the sky clean. The Eocene domain we are destined to revisit when we cross the magic point of a carbon-dominated atmosphere is much warmer than humans are accustomed to. For that matter, it is much warmer than trees are accustomed to. Lovelock says that in a 5-degree warmer world the Amazon rainforest, the Eastern boreal forests of North America, and the forests of Europe, Africa and Asia will be replaced with blowing dust.
If that were really true, we would expect to see wildfires in the Southeast and Southwest USA, claiming millions of acres. We would be seeing hurricanes of unprecedented strength, some coming in times of the year or visiting places they have never been seen before. There would be more frequent droughts, along with an increase of tornadoes and insects knocking down whole forests. Hmmm.
In certain ways the human world is re-enacting the tragedy of Napoleon's advance on Moscow in 1812. … He was unaware that the forces of General Winter were siding with the Russians….
This profound alteration of the habitability of Earth leads Lovelock to conclude that we are at the end of any and all civilization. *"We are in a fool's climate, accidentally kept cool by smoke, and before this century is over billions of us will die and the few breeding pairs of people that survive will be in the Arctic where the climate remains tolerable.