19 Mar 2008
12 Tools for Transition No. 7: Making the most of your public events
A film screening is much more than just an opportunity to sit a load of people in front of a screen. Likewise, a talk is more than just the chance to hear the musings of a well-known thinker on a particular subject. Both are opportunities to get people talking to each other, networking, building social connections. Indeed, one might argue that these are far more important than the film itself; they could, after all, just borrow the DVD and stay at home. It is also important that you work into these events what we might call "digestion time", that is, time to chew over what people have heard, rather than just dumping information on them and then ending them out, blinking and bewildered, into the world. Here are some of the things you might expect at the average Transition Initiative film screening or talk:
'Think and listen'
Usually just before the film or talk, and immediately after, we invite people in the audience to turn to the person next to them and to spend five minutes each way, talking and then offering listening to the other person. Before the film the
theme is "who are you, what has brought you here, what are your hopes for the evening?", and then after the film or talk to discuss their thoughts about that. Before the film it is a very useful tool for starting to build a buzz at the event, people really enjoy meeting other people and feeling, from the outset, part of a larger body and an energetic movement.
After the film it is a very good way of helping people to order their thoughts in advance of being able to ask questions and/or contribute to a group discussion. It is also a good opportunity to 'digest' the information in the film, which may have been unsettling or even distressing for some.
The Comments Wall
This is another tool for helping people to feed back their thoughts on the evening, and to be able to voice thoughts or opinions they felt unable to contribute by standing up with a question or a comment. On the back wall, where people leave the venue, we stick together lots of sheets of flip chart paper, stick them to the wall and provide lots of pens so that people can write their comments. This can yield very useful feedback sometimes, and is a valuable opportunity for the shyer attendees to have their say.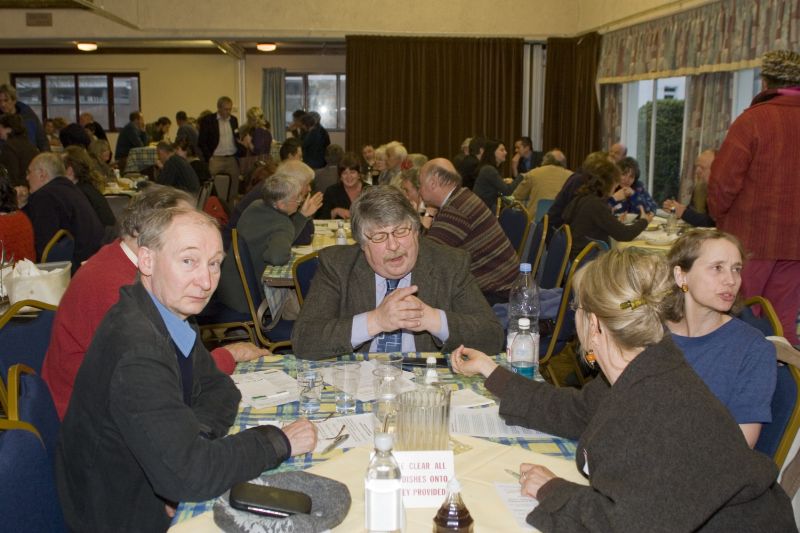 Celebration!
Celebrating is something that we earnest greenies aren't that good at, but it is a key element to build into each stage of our work. When Transition Stroud showed The Power of Community a while ago, they followed thescreening with food, drink and live music. While it may prove impractical that every event features a celebration on such a scale, it is a powerful concept to bear in mind and to work in where possible.
Harvesting email addresses
These events are your opportunities to start building up a database of email addresses of supporters in the community, which you can then use for sending out a regular bulletin, updates or news of particular events. With TTT,
on the door of each event we have a list and we invite everyone as they arrive, to leave their email addresses, stressing the confidentiality and that they are not given out to anyone else. This list becomes an invaluable resource. Always be mindful of issues around data protection, and always send any group emails as BCC (blind carbon copy).
The Post-It Note tool
This doesn't have a snappy name, but it is a great tool. It originally came from something similar they did when they showed The End of Suburbia in Machynlleth in Wales. We adapted it slightly to suit Totnesian ends. When people
arrived for the film, they were given four different- coloured post-it notes. They were asked to write on them accordingly:
Pink – One thing I can do
Yellow – One thing Totnes can do
Orange – One thing the Government can do
Green – One other thought
A follow-up
This works particularly well after the post-it notes exercise, but you may like to adapt it for anything that involves the gathering of people's ideas. After the event, type up the post-its and then email them out to everyone who attended. This is a very useful tool for keeping the ideas current in people's minds, as well as for remaking the point that their thoughts are part of a powerful surge of thinking that is being unleashed within the settlement in question. When giving attendees their post-it notes, don't tell them what they are for, so as to build a sense of anticipation.