22 Mar 2008
Positive Energy: creative community responses to peak oil and climate change. Day 1.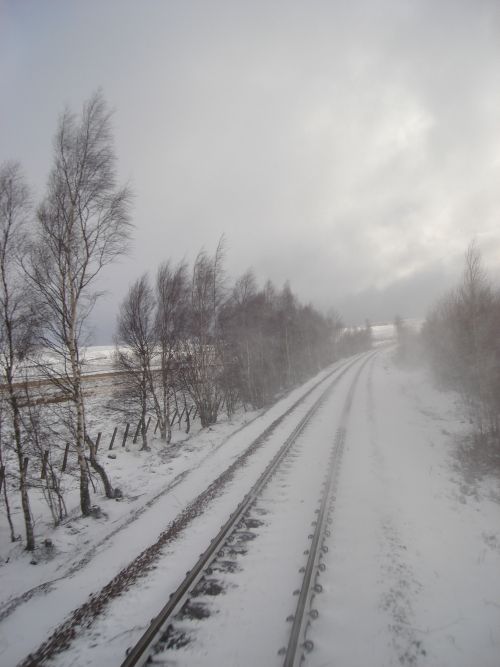 The train journey by overnight sleeper from London Euston to Inverness is quite magical. You fall asleep sometime around the point at which the train passes through Clapham (not especially picturesque), and you awaken in the Scottish Highlands where, in our case at least, the snow is falling and the landscape, a mixture of lakes and forest, streams and hills, is quite beautiful. It was a view that was timeless, enchanting and coming from the South West of England where it never seems to snow anymore, it was a rare and delightful reconnection with landscapes that look as though they have been sprinkled with icing sugar.
The snow didn't, unfortunately, stick around for long once we approached Inverness, indeed it had mostly vanished by that point. The pleasure of travelling by night sleeper, the fact that you aren't wasting any time really that you wouldn't be using by sleeping anyway, and the delight of the views and the whole experience really makes one wonder why flying is even an option that some consider. I think one of the main reasons, from talking to some of those here who did fly, is the dreadful ticketing system one has to wade through to get tickets. With air tickets, three or four clicks and you're there, the train ticketing online is dreadful, takes about half an hour and then at the end, for me anyway, it says 'we are unable to process your order at this time' and that's that. Seems like an obstacle that would be relatively easy to resolve.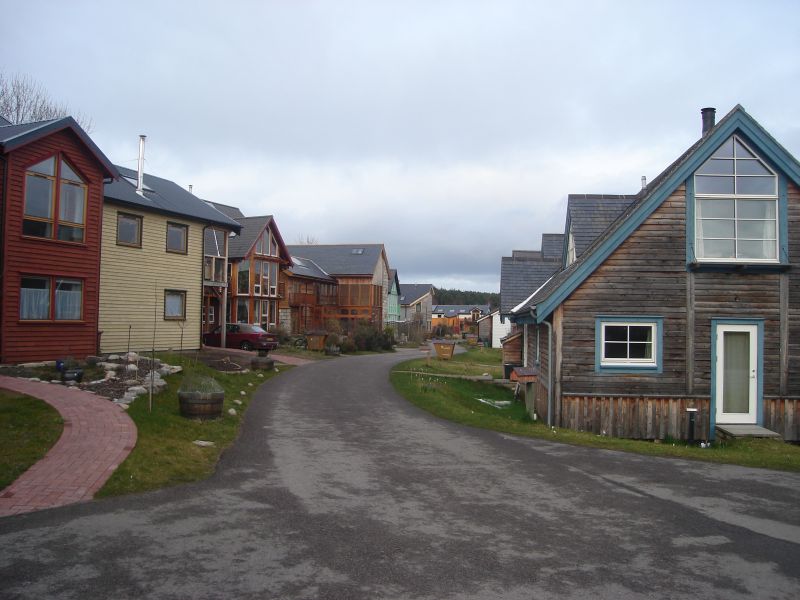 Anyway, arriving at Findhorn itself was like meeting an old dear friend who one hasn't seen for some time. Rowan and I had a brief look around, a first look at the new houses in 'The Field of Dreams', many of which are really quite lovely, and a quick trip to the whisky barrel houses, before having lunch.
The conference itself started at 2pm in the stunning Universal Hall. After an introduction and notices, we did a ritual which was about forming ourselves into a spiral and announcing what we stand for in our lives. Then we broke into groups and introduced ourselves to each other. After a tea break we had a tour of Findhorn, seeing the history of the place in the various buildings and structures.
It is fascinating to see how the place has evolved, and how even though the latest development, the Field of Dreams, contains some really beautiful and pioneering structures, it is seen by some at Findhorn as not living up to its potential of providing affordable housing for those who have worked for the place for a long time. However, walking around it I was struck by how many of the buildings are really innovative and some a really quite beautiful.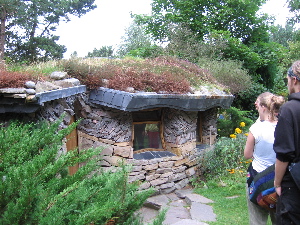 Some of the buildings I saw here when I was last here in 1995 still look great, in particular the wonderful Nature Sanctuary, one of my favourite buildings in the world. It is a celebration of local and recycled materials, creating a structure that looks as though it has always been there. Few building have such a sense of deeply belonging to the place in which they sit. As I post this I am just about to head off for the final session of the day, a welcoming session, which will set us up for tomorrow morning, when we begin to work with Joanna Macy.