7 Apr 2008
The Wonders of Getting Your Hands in the Soil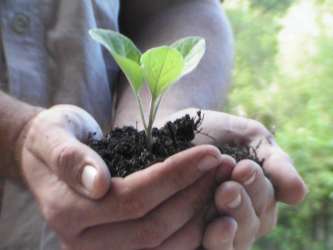 Spent a glorious weekend in the garden, sowing seeds, building a compost heap, digging over a new bed and generally getting everything ready for the emerging Spring. In the interests of trying different approaches alongside each other to see what works best, I made a double-dug terraced bed, a lot of work but something you only need to do once. I have been putting in some soft fruit bushes and our first seedlings, salad rocket, have just started to peep through the compost in their seed trays. When I sat down this morning though, with my lower back still feeling the exertions of my double digging, I found, via. Energy Bulletin, a wonderful film about a permaculture farm in Australia, which makes my wee plot rather pale into insignificance!
The film is about Annemarie and Graham Brookman's farm in Australia, known as the Food Forest. They have transformed an arid piece of near-bare ground into a thriving and abundant food forest, incorporating a wide diversity of fruits and nuts as well as some livestock. The farm won an award recently and at the awards ceremony, Graham concluded his acceptance speech by saying "to the thousands of people who elect to use public transport, ride bikes, live in small environmentally designed houses and eat sustainably produced food: you are not mad". Certainly when they took on such an unpromising piece of ground, many must have thought they were mad.
The film also includes David Holmgren who has advised them in the design and evolution of the farm. I am always touched by these examples of people taking huge risks and throwing personal and financial security to the wind because they know it is work that needs to be done, and that such are the times we live in that to do anything else would somehow be dishonest. I am reminded of Ambrose Redmoon's words that Megan Quinn used to finish her talk at the Positive Energy conference at Findhorn….
"Courage is not the absence of fear, but rather the judgment that something else is more important than one's fear. The timid presume it is the lack of fear that allows the brave to act when the timid do not. But to take action when one is not afraid is easy. To refrain when afraid is also easy. To take action regardless of fear is brave."
There will be no posts here for a few days until after this weekend's Transition conference, as I am off with the family to London for the Tutankhamen exhibition and a few other things…. see you next week….