16 May 2008
The BBC Explore the Forthcoming Lewes Pound
I wrote a while ago about how the Totnes Pound is being taken as a model in a number of Welsh towns, and now news comes that Lewes in Sussex are planning their own currency too. The short film which you can see here, also features, among others, Adrienne Campbell and Oliver Dudok van Heel from Transition Town Lewes with a guest appearance by TTT's Robert Jackson. Well done Transition Town Lewes, and best of luck with the new Pound. Here is the accompanying article from the BBC website;
Lewes plans its own local currency
By Ian Rose
Working Lunch
The news agenda is filled with stories of a global credit crunch.
Banks are hard up for money and customers are finding it more difficult to get credit. In the Sussex town of Lewes they're devising a plan which could change all of that. They want to print their own local money.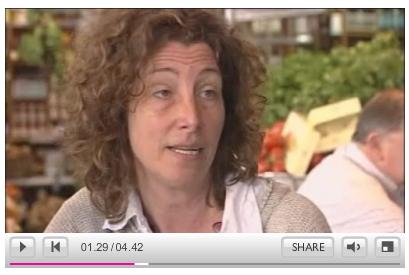 Inspired by the Devon town of Totnes which launched its own currency last year, Lewes locals are at the start of the process of re-launching their own cash. The town did have its own pound before but it was last in circulation in 1895.
Shop near where you live
The group behind the schemes in both Totnes and Lewes are part of the "Transition" movement which is concerned with the impact of rising oil prices and consumption.
They hope that the new money will encourage shops and customers to buy local produce and reduce their fuel consumption.
It's also hoped the scheme will encourage a greater sense of community.
Adrienne Campbell, one of the people behind the plan, says: "We're a group of people who want to re-localise and strengthen the local economy – grow our food locally, have more businesses locally and generate our own energy locally as well."
Bill Collison who runs the local greengrocer and café says that he's backing the scheme even though it could mean more paperwork.
He says it's another coin to count, and then you have to figure out a way of changing your takings back to regular currency at the end of the process.
Local scepticism
Some other locals aren't as keen. They say that life's confusing enough and they want to spend their money where they want.
But shopkeepers are keen, with many of the owners of local businesses backing the move.
Whether it's popular or not, the very question of a town issuing its own currency does stimulate a debate about how money actually works.
It is after all simply paper, which only works because we all agree it has a special value.
The team in Lewes may have a job convincing some of the locals to agree that their pieces of paper carry the same value.
But they are taking their time, and they're hoping to be ready for a launch by September.