19 May 2008
Is Burning Wood Really A Long-Term Energy Descent Strategy?
One of the most essential publications to which I subscribe and which I most look forward to the arrival of is Agroforestry News, produced by the Agroforestry Research Trust. It is scholarly, always illuminating and at the same time is brims with the possibilities of an entirely different way of looking at how we could feed, house and heal ourselves. The latest issue features a fascinating article which, as someone about to install a woodstove, caught my attention, and which I thought would be sure to generate some debate here at Transition Culture.  Thanks to ART for permission to reproduce it here…
Burning wood: issues for the future
Martin Crawford, Agroforestry Research Trust
Many environmental groups are championing wood and biomass-burning as a sustainable carbon-neutral source of energy – both for heating and electricity production – for the future. However, there are several problems with moving more towards a wood-burning economy which are not really being addressed. These are:
1. Wood burning is not carbon neutral.
2. There are serious health implications from the smoke produced from wood burning, even from 'clean' burners.
3. Basing home heating requirements on wood burning requires a large area of dedicated woodland managed as a fuel wood.
In terms of carbon neutrality, the burning of wood often ignores the fossil fuel used in the harvesting, preparation and transporting of wood.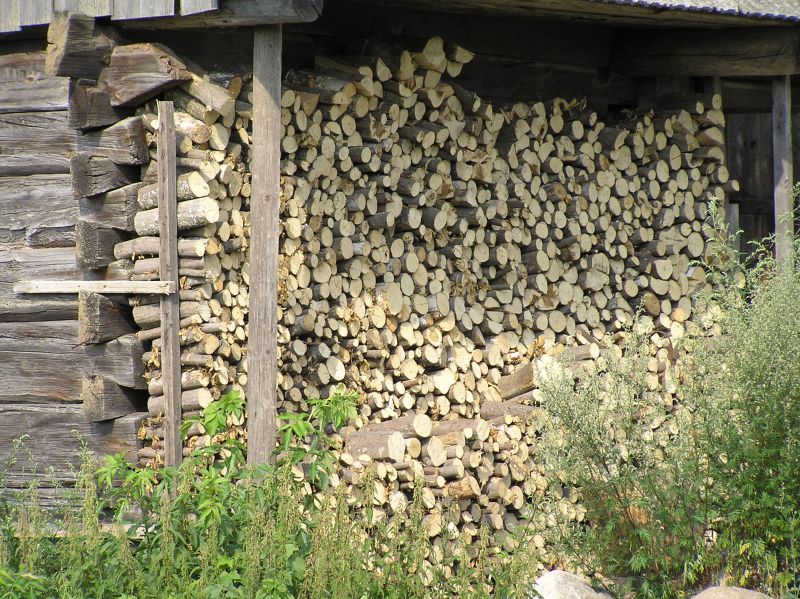 The carbon dioxide released when burning wood (about 1900g CO2 for each 1000g of wood burnt) is balanced by the fact that this carbon was taken up by the tree from the air when it grew. So this part of the emissions is carbon-neutral. However, many other chemicals are produced when wood is burnt, including one of the most potent greenhouse gases, nitrogen dioxide; although the amounts may be small (200 g of CO2 equivalent per kg of wood burnt), the gas is 300 times more potent as a greenhouse gas than carbon dioxide and lasts 120 years in the atmosphere.
Methane is also produced (70 g of CO2 equivalent per kg of wood) – 21 times more potent than CO2. Carbon monoxide is also produced in large amounts which has an indirect positive effect on global warming. Recent research suggests that particulates too have a positive effect many times greater than the combined gases although they are short lived. Overall, although figures vary depending on a multitude of factors, there is no doubt that wood burning is contributing to global warming.
The health implications of wood burning derive from the emissions which contain carbon monoxide, nitrogen dioxide and particulates, as well as other noxious gases. In a rural situation, where the burning inside a building is clean and with a flue, the health effects will be minimal. In a situation in a village, town or city it is not so: ambient levels can rise severely (for example, in Christchurch, New Zealand, where wood burning is common, wintertime levels of particulates can become very high, causing an estimated 100 deaths a year and an increase in hospital admissions from respiritory complaints by 8%). An estimated 1.5 to 2 million people die per year worldwide from indoor smoke, mostly produced from open and unflued fires in the 'developing' world. Smoke particles in the EU (from wood and fossil fuel burning) reduce average life expectancy by 8.6 months.
As to the area of woodland required, this is a less contentious issue. It depends, of course, on the type of building being heated – a newly built ultra efficient house will require much less than an older house. And if heating and hot water are both being generated by wood burning this will increase the requirement. A recent case study of a new build with heating and hot water from wood burning estimates a requirement of 12 tonnes/year of dry Douglas fir, equivalent to about 9 tonnes/year of a denser wood like ash.
Forestry Commission figures estimate 8 tonnes/year of air dry wood to heat a three bedroomed house. A 10 year fuelwood coppice rotation of mixed deciduous trees produces about 1 tonne/acre/year (or 2.3 tonnes/ha/year), so 8 acres of coppice would be requires to produce 8 tonnes of wood per year. Even the fastest growing trees – alder, willow, poplar, eucalyptus – would require 6 acres to produce 8 tonnes of wood per year. For the 30 million households in Britain this would require about 4 times the total agricultural+forestry land area available! Nobody is suggesting the entire population of Britain use wood fuel, however, it is clear that in an era when food will need to be grown more intensively, more locally and more sustainably, there will only be enough land for a small minority to use wood for fuel.
References
http://www.smfrancis.demon.co.uk/airwolvs/index.htm
http://www.environment-agency.gov.uk/business/444255/446867/255244/substances/645/?
The quantification of the effects of air pollution on health in the United Kingdom: COMEAP,
Department of Health, UK, 1998
UK national emissions inventory www.naei.org.uk
Domestic Woodfuel Installations – A Case Study. Scottish Woodfuel News No 3, Nov 2007.