20 May 2008
Why Planning for $200 Barrel Oil is so Important, or, Why Government is Failing Us in Times of Transition
With the oil price looking pretty settled at $126 a barrel having reached as high in recent days as $128, what does the UK Government estimate the future oil price to be? Clearly one would imagine that as the most responsible body in the land, charged with making long term decisions that affect us all, they would have their fingers on the pulse of this one. Unfortunately the official position is as insulting as it is pathetic.
In the Department for Business Enterprise and Regulatory Reform's Energy White Paper (page 4) published in February 2008, they write;
The projections are based on three illustrative fuel price scenarios of low, central and high prices which reflect uncertainty over the outturn of future prices and are not detailed forecasts of future prices. The low prices scenario assumes a level oil price of 25$ per bbl throughout the projection period (2010 – 2020), a central scenario assumes $57/bbl in 2010, $50/bbl in 2015 and $52.5/bbl in 2020 and in the high price scenario where oil is $70/bbl in 2010 increasing to $80/bbl by 2020.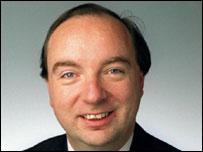 So their worst case scenario in February 2008 was $70 a barrel by 2010. The oil price when the report was published had already passed $100 a barrel! Had they all fallen asleep? In an attempt to try and probe a bit deeper and hopefully to reveal that the Government had finally seen the error of its ways and upped their estimates, Norman Baker MP (see right: MP for Lewes, also the MP who questioned the death of Dr. Kelly), asked the following question the other day in the House of Commons, as reported in Hansard.
Norman Baker: To ask the Secretary of State for Transport pursuant to the answer of 4 March 2008, Official Report, columns 2263-4W, on oil: prices, whether she plans to revise her projections for the future price of oil in (a) 2010, (b) 2015 and (c) 2020. [204668]
Jim Fitzpatrick [holding answer 9 May 2008]: The Department for Transport uses oil price projections from the Department for Business, Enterprise and Regulatory Reform (BERR) in its transport modelling. On 2 May 2008, BERR published revised oil price assumptions to (a) $65; (b) $68; and (c) $70 for the years requested. These are in 2007 prices and refer to their central scenario. We are in the process of using these updated projections to make new road traffic and congestion forecasts. The new oil price projections will also be incorporated into the latest versions of Department guidance and software used in developing business cases for funding by promoters.
So in other words, when prodded by a Parliamentary question to come up with an overall assumption, months after oil first broke $100 for the first time on January 1st 2008, since when it has not dipped back into double figures, they go for something midway between their central and high scenarios in their White Paper. Heartening.
Especially as they must have been aware of the recent Goldman Sachs report that came out around the same time which said that the price was going up not down, and that $200 a barrel was not too far off. They also revised their forecast for the second half of 2008 from $107 to $141. At least someone is paying attention.
Couple that with the various indicators from, among others, Saudi Arabia, Russia and Norway that suggest forcibly that the UK has a major energy security crisis looming sooner rather than later and the Government's feeble assessment really beggars belief.
Strikes me that at this point in time, in terms of our future forecasting, we need to be seriously planning for a $200 a barrel world, and that planning for anything less is criminally negligent. Whether it is a year away or 3 years away, fact is we have left ourselves virtually no time to prepare for it at all. At $200 a barrel, expansions to airports cease to be worth the investment, and one would have to question whether anyone has questioned how viable it is to build new nuclear power plants at that cost (given the high amount of embodied energy in the materials). Indeed, planning for $200 a barrel will lead to the asking of some very hard questions, questions which business as usual will really struggle to answer. $200 a barrel should become the equivalent to peak oil of what 35oppm is to the climate change campaigners, ie. the line in the sand. Anything less (or in the case of 350ppm, more) is not acceptable as it condemns us to breakdown and chaos, to lurching into an avoidable but entirely predictable mess.
Indeed it is not just Government who need to be planning for the $200 a barrel era. There are plenty of other organisations who develop long term plans that affect us all, principally local authorities, but also a range of others. I mentioned here the other day a talk I gave recently at Hartpury College near Gloucester, at the end of which I sat on a panel with various representatives of the South West Regional Development Agency. I was heartened to read in the local paper the following summary of the evening;
Director Makes Green Promise. 17th May 2008
An Agency charged with boosting Gloucestershire's economy has pledged to go "carbon neutral" within five years.The South West Regional Development Agency's area director for the West of England and Gloucestershire, Ian Knight, made a personal commitment to commission a study of the way rising oil prices will impact on the region's economy.

The announcement was made in response to questioning of agency officials at the recent Gloucestershire Rural Partnership conference.

The keynote address to the event, at Hartpury College, was given by Rob Hopkins, founder and co-ordinator of the Transition Town Movement. Mr Hopkins explained that by addressing the challenge of oil dependency now, and being prepared, Gloucestershire's local economy could turn a potential crisis into an opportunity.
So I didn't just imagine it. Good. This is the question we need to ask all levels of Government, and you can be pretty sure that no-one will have an answer for you. This is where Energy Descent Action Plans come in, they demonstrate what creative thinking looks like when applied to this question, something Councils seem unable to do. They will set out creatively and practically how the town might thrive in this new world. We start serious work on the Transition Town Totnes one in a couple of weeks, and Lewes, Mr Baker's constituency, are already underway.
Me, I long for a $200 a barrel world, as much as anything because perhaps when we get there, we will be able to sit down with the people at BERR who write this rubbish, and ask them what they thought they were doing. It should, as we sit beneath a mature walnut tree, with children running through the abundant food gardens behind us and as ripe, full walnuts punctuate the conversation by dropping earthwards and bouncing off our heads, be a most instructive conversation.