5 Jun 2008
Stroud's Communiversity Launched 13th June… Be There!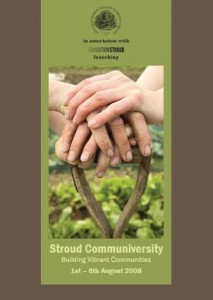 Transition Stroud (check out their wonderful new website here) are launching their Communiversity initiative, which provides a wonderful opportunity to experience the wonderful diversity of initiatives that have been running in the town for many years. Stroud has, for a long time, been one of the UK's leading 'alternative' towns, experimenting with local currencies, CSAs, farmers markets and so on, before the rest of the country even thought of it. Taking 6 days out in August to head over to Stroud would be very instructive and inspiring for anyone involved in Transition projects or for anyone who takes an interest in this kind of thing. It all kicks off with a launch event on June 13th (see below) and the Communiversity itself will be held over 6 days in August, and you can read the brochure for it here.
Stroud Communiversity comes to town
Stroud Common Wealth in association with Transition Stroud is holding a Launch Event on June 13th for an exciting new concept showcasing some of the unique initiatives that started first in Stroud. Stroud Communiversity – to be held over 6 days in August and itself an entirely new idea – will give those interested in local action on housing, food, enterprise and sustainable environments an opportunity to engage first hand with some of Stroud's ground-breaking projects. Rather than just reading about them, they will be able to visit Stroud Community Agriculture, Springhill Cohousing, Ruskin Mill, the Exchange and Stroud Valleys Art Space – all excellent examples of local action at its best and most successful – and to meet the people running them. They will also sample the delights on offer in Stroud's growing range of cafes and restaurants, as well as the award-winning Farmers Market.
The Launch Event in June will be a taster for Stroud Communiversity, designed for those who are considering joining the main event in August. There will be opportunities for discussion as well as a keynote talk by Professor Hugh Barton, the World Health Organisation's Healthy Cities Champion.
Up to 40 people from all over the UK are expected to descend on Stroud in August to participate and debate what they see here, whilst bringing their own experiences to share in specially themed action learning groups. Evenings will be packed with activity – showcasing local bands, Transition Stroud and the local artistic scene. A keynote speech will be delivered to kick start the event.
Martin Large, Chair of Stroud Common Wealth, has characterised Stroud Communiversity as "From Action to Vision: Building Vibrant Communities" and has pointed out that "Learning is like muck – the more you spread it around, the more growth there is!". Stroud Common Wealth Director Max Comfort sees Stroud Communiversity as "a unique opportunity to actually experience and participate in what so many are merely talking about." He adds that "It is also a wonderful way to promote some of the best of what is happening here in Stroud and of which I am immensely proud."
Transition Stroud – a growing force in the sustainability debate – is supporting Stroud Common Wealth in this very original project. Odilia Jarman of Transition Stroud, says "We share the sense of urgency around global challenges and the developing visions of how to respond locally. Stroud Communiversity gives us the opportunity to exchange ideas and practical experience, and to then spread this far and wide". Molly Scott-Cato, writer and lecturer in green economics was keen for Stroud Communiversity to be founded: "I work in higher education and I'm concerned at how far what we teach can be from people's experience and from the urgent problems that we need to address as a society. I hope to share what I have learned about how to structure a sustainable economy."
Details of the Launch Event in June, together with a preliminary outline of the main event in August, can be found on www.stroudcommonwealth.org.uk
Editors: Contacts for more details: Max Comfort (01453 840458/07973 635868), Odilia Jarman (01453 766598), Helen Pitel (01453 762957) or Molly Scott-Cato (01453 764730).
Friday 13th June Stroud Communiversity Launch

Creating Healthy, Sustainable Towns and Neighbourhoods – Public Talk by Professor Hugh Barton, showing examples of disasters and marvellous successes and challenging Stroud to think holistically. Doors & Bar 7pm for 7.30pm. Tickets £6/ £4 from Stroud Tourist Information. FFI contact Odilia Jarman on 01453 766598