9 Jun 2008
For Guido, who never heard of resilience
This post was prompted, a few months ago, by a return to a place in Italy where I lived between 1988 and 1990. I was returning for the funeral of a very dear friend of mine. I hadn't been there in the intervening years, and much had changed. While I was there, I came across this photo, of an 18 year old me (left), and my friend Dan, standing in the farmyard of this extraordinary man, Guido Vannini (centre). Seeing the changes to the place I had known so well, and being reminded of Guido, prompted me to write the following;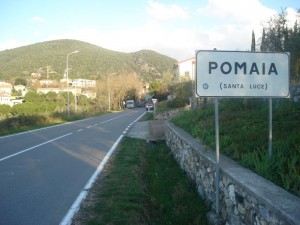 I never actually knew a great deal about Guido, he never told me much about his life. I know he was born in 1910, and I know he died, aged 89, on the farm on which he was born and where he had lived his whole life. His farm was situated on the edge of a small village called Pomaia, in the hills of Tuscany, near the coast south of Pisa. I met Guido when I was 18. I had moved from the middle of Bristol to this village in these Italian hills, and very quickly came to know Guido.
He was a very small man, but strong as a horse. He had hands like shovels and the skin on his hands was like leather boots. I don't know if he had ever been married (I suspect not), but he lived alone and ran his farm alone. He had a cow called Dora, a few chickens, a small tractor which never seemed to break down but which moved incredibly slowly, an old Vespre, olive and peach trees and grapes. When I arrived he made two kinds of wine, one the traditional red wine everybody else made, and another, which I never saw other people make, which was more like a sparkling cider. Guido's olive oil was legendary. I went most down to see him very early most mornings to collect the milk from him, in the bucket, still steaming in the morning air, which I then took back and filtered through a muslin cloth.
A few times I helped him on the farm. I remember hanging off the back of his tractor, attempting to weed seedlings while he drove the tractor, shouting incomprehensible instructions at me, this man who had done this work since being a child amazed that someone could be as inept as I was at such a simple task. Another time I helped him to pick his peaches. One gorgeous late summer evening, a few of us set to his groaning trees, carefully handling the fruit so as not to damage them. I shall never forget the peach I found at the very top of the tree, the largest, juiciest, sweetest peach I have ever eaten, which almost exploded when I bit into it.
Perhaps most memorable was the time when Dora needed her hooves clipping. This process required a group of neighbouring farmers, all built like Guido, a few glasses of wine, myself and Dan (along really to make up numbers rather than to lend any significant amount of muscle), and a length of rope. The rope was tied between the cow's legs in a particular configuration, and on Guido's signal, pulled, whereupon the cow flipped onto its back and the designated hoof clipper could set to work. Keeping the cow sufficiently still required lots of muscle and pushing and pulling, and the most spectacular collection of foul Tuscan swearing I have ever heard. Eventually the cow's dignity was restored, a couple more glasses of wine were had, and everyone went on their way.
Guido was an utterly charming man, who always assumed the best of people. Any conversation with him would always feature his tapping your arm frequently, to make sure you were still paying attention. Paying attention was a struggle, given that he spoke incredibly fast in a very strong Tuscan accent, one which meant that some words were entirely different from those used elsewhere in Italy. Our conversations, at least in the early days of my learning Italian, were decidedly one way, and involved me nodding a lot, and hoping he wouldn't ask me an actual question. He couldn't say "Rob", preferring instead to call me "rrrobb-eh".
Guido often talked about a woman called Lynetta, who none of us had met. Lynetta was a legend. She had come from London some years previous on a motorbike and stayed with him, helping on the farm, and Guido had become very fond of her. He often asked if we had heard anything from her, and one time, when I told him I was going to be visiting London, he told me to say hello to Lynetta, "just ask someone, everyone there will know her". I think his trips beyond the village had been few during his life, and he certainly had no comprehension of a village the size of London.
I last saw Guido in 1993. He was 83, and was still running his farm on his own, although he had stopped making wine by then. His eyes still twinkled, and he still always had time for a long chat about cows, wine, mutual friends and Lynetta. Many years passed, I moved away, life took over, and I heard nothing about Guido until I heard in 1999 that he had passed away. What prompts my writing this is that I recently returned to the village, and went looking to see what had become of Guido's house. What had happened to it was the same as had happened to many of the other houses I remember from my time in Pomaia. It was no longer a working farm. The animal sheds had been converted, a wall had been built across the entrance into the yard, so you couldn't drive a cow in even if you wanted to (see right). The yard now featured ornamental plants in pots and an expensive looking car.

The demise of old men of the soil such as Guido may be seen as inevitable, and perhaps it is. The world around him increasingly had no place for people such as Guido, managing a diverse small farm, working hard, intimately familiar with the soil, the seasons and the land he knew better than he knew most people. I think, however, the passing of Guido and his generation is something to mourn. He was a living, breathing manifestation of a resilient culture that has all but slipped through our fingers.
By resilient I mean able to withstand shock from the outside, having sufficient ability to be a producer as well as a consumer, being sufficiently skilled to be able to turn your hand to whatever life demands of you. The urgent need for rebuilding resilience, becomes more and more urgent every day. The soaring price of oil (we look almost certain to see $140 this week, quite possibly today), the credit crunch, the recession already underway, shine a bright light on the fact that we have spent the last 50 years ruthlessly dismantling the very thing we now need the most.
When I first arrived in the village, it still had much of its resilience. People helped each other out at harvest time. The wine and olive oil produced was mostly sold and consumed locally. Farmers such as Guido were able to turn their hand to any task, and were able to work hard. I think when we lose people like that, we lose more than just individuals, especially when what they have learnt over their lives isn't passed on. You had a sense that were the rest of the world to cease sending anything to Pomaia, it would still be able to meet its basic needs. In short, it was resilient.
We have largely lost a collection of skills and a resourcefulness that once they are gone, are extremely difficult to recreate. For a village to move from having its fair share of Guidos, to having professionals who work in the nearby towns, second homes and retired people is a huge change in the economics of the place, and in its ability to deal creatively with the shocks that are coming.

As we live our increasingly frantic lifestyles, dashing around generally doing nothing of any great importance, working in jobs that are either astonishingly clever or desperately mundane, we have become distanced from the skills that are essential to more resilient cultures. I never saw Guido bored. His one technological device was his television set, that was about it. He was able to find stimulation in a simple job well done. I wish I had taken more time out to learn from him. It never felt important to me. I wish I had asked him to teach me how to make that sparkling wine. Perhaps the recipe, like so much else, passed away with him.