23 Jun 2008
The Story of a Cob Pizza Oven, Told in Pictures
There is something delightful about the whole experience of making a clay pizza oven. The creativity of the work, the smell of woodsmoke, the feeling of your skin after a day immersed in clay and sand, the great sense of being part of a team, and the elemental connection with mixing earth, water, straw and fire and producing that great human staple, bread. I just spent the last couple of Sundays making one at my kids school, and it was delightful. Rather than writing a long piece about it, here are some photos to tell the story of the process.
So here we go, The Story of a Cob Oven, Told in Pictures
Measuring out the dimensions of the inner void onto the pre-existing brick base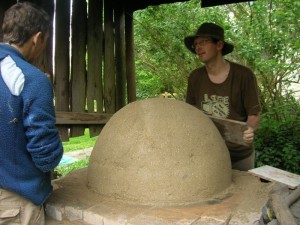 The shape of the inner void is made like a big sandcastle, with damp sand, and then smoothed by being 'rolled' with a board
Mixing the inner layer, no straw, just clay and sand mixed in a very particular mix, roughly 7:1, very dry, just enough moisture to hold it together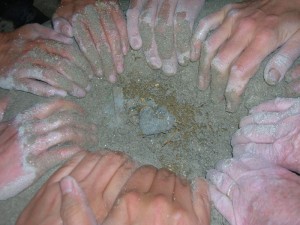 The mix is built up in layers around the sand form….about 3″ thick. Here we are very nearly at the top
Then the scary bit, cutting the opening and taking the sand out. Hearts in mouths….
It worked! Then, when all the sand is out, light a fire to start the drying process straightaway (in theory you should be able to start cooking in it already)
A couple of weeks later, mixing the cob for the outer layer
A fine pile of cob loaves ready to be passed to the stove for building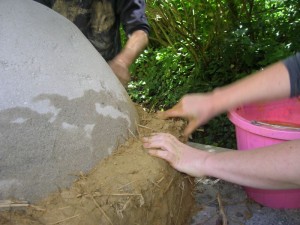 Building up in layers, as before, taking care not to press against the inner layer, and to keep a regular thickness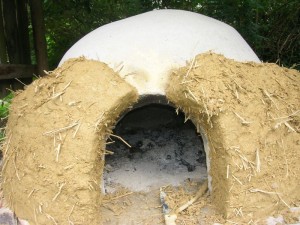 Nearing the top. The gap above the door was filled with specially made cobs called 'corbel cobs', where the straw all runs in the same direction.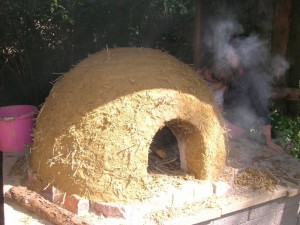 The second layer completed and with a fire in it to hasten the drying process. The outer surface is scored and marked so that when the kids come to decorate it by adding some kind of animal design, it will attach itself easily. Not bad for 2 days work!