29 Sep 2008
Hemp Lime Plastering my Kitchen
We knew it was time to do something to address the energy inefficiency of our kitchen when energy-in-buildings expert Rob Scott McLeod was doing an energy efficiency makeover plan for our house in January, and he put his hand on our kitchen floor and said "touch the floor… now put your hand in the fridge" – the floor was colder.  It used to be a garage, so the roof is uninsulated, and the floor is clay tiles laid onto an uninsulated concrete slab.  The cavity in the walls is uninsulated. So, all in all, a freezing kitchen, impossible to raise to any tolerable temperature.  With winter looming once again, it was time to sort it out.  Over the next few days I will tell you about what we did, but having just spent a couple of days hemp and lime plastering, I want to wax lyrical about that.
I love hemp and lime plaster. If you are used to plastering with normal plaster, hemp and lime is odd stuff.  It is a bit like trying to plaster with tuna and mayonnaise. What it produces is a wonderfully soft, warmand sculptural plaster.  It is wonderful for taking the square edges off right angles and corners, and for breathing some beauty back into unloveable spaces.
When I was in Ireland I knew a few places to get hemp for construction, but in England it took a bit more looking for.  In the end I got it from the Cornish Lime Company, who were very helpful and who got it to me pretty quick.  Because I had rather left it to the last minute I didn't have time to find a cheaper way of doing it, which would have consisted of finding a source for agricultural lime or more locally grown  hemp…   Using agricultural lime greatly reduces the amount of hydraulic lime you need to buy in.  Provided you have some kind of trailer to go and collect it in, agricultural lime is dirt cheap.
The recipe for hemp/lime plaster I used to use in Ireland replaced a lot of the expensive lime with agricultural stuff;
1/6th bucket of NHL 3.5 hydraulic lime
¾ bucket hydrated lime (i.e. White Rhino)
½ bucket ground limestone (the kind farmers use on their fields, dead cheap…)
1¼ bucket of water
Mix to a slurry, then add 1 and 2/3rds bucket of hemp.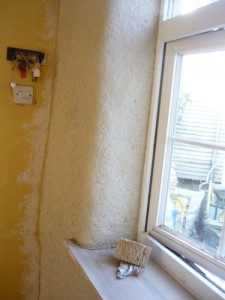 When I rang Cornish Lime to ask for recipes for hemp/lime using the stuff I got from them (NHL 2 lime and dried, chipped hemp), they directed me to the website of St Astier, and to their fact sheet on hemp building.  This was very informative, however I always get a bit fed up with mix recipes that refer to 200 litres of hemp and so on, I want to know how many buckets of this and that.  Much easier.  So, after a bit of fiddling about and experimentation, here is the recipe that worked for me, and which made a gorgeous sticky plaster which went on lovely…
2 buckets of water
3 buckets of NHL2 hydraulic lime
4 buckets of dry shredded hemp.
Gorgeous.  When you mix it in a mixer, you put the water in first, then the lime (watch out for that lime dust, horrible stuff…), then the hemp. Wet the wall first, and then apply the hemp.  Getting hemp to stick to the wall is not like normal plaster.  You kind of press it onto the wall, takes a bit of practice, but once it is stuck to the wall you can then add to it or smooth it.  You can get various finishes to it, from the rough to the very smooth.  I tend to like it being smooth, you do that by waiting until it has been on the wall for 30 minutes to an hour, and then go over it with a rubber glove on and rub it vigorously.  The final result is worth the effort.
You can put it on at various thicknesses.  I put on about 2 inches, but in a couple of weeks I intend to do our porch bit, and it will go on a lot thicker there….  fabulous stuff.  Thanks to Rowan (my eldest) and his mates Sam and Alex who helped, and also to Sky and Robert for their help too.