29 Sep 2008
Today's Transition Chat! The Transition Timeline.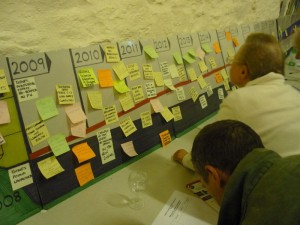 The Transition Timeline. Establishing the assumptions underpinning our Energy Descent Planning. Hosted by Shaun Chamberlin, author of the Transition Timeline.  Today at 2pm over at Transition Chat!
The Transition Timeline is a tool for the Transition communities starting to grapple with preparing their local Energy Descent Plans.  The first version is nearing completion, and should be made available next month, and it is intended as an ongoing interactive project.
It lays out the global context of peak oil and climate change in some detail and then considers the Transition Vision of how the UK could develop over the next 20 years within that context, looking at the key areas which local subgroups have tended to form around, such as food, transport, electricity generation, health and so forth.
In doing this it aims to lay out the 'landscape' on which individual Transition Initiatives are developing, and help inform how their local Energy Descent Plan will sit within the national and global context.  As it is a tool for Transition communities I have been working closely with a number of Transitioners while developing it, and am keen to hear from as many of you as possible as to what would be helpful.