20 Oct 2008
In Search of the Fabled Permaculture Chicken/Greenhouse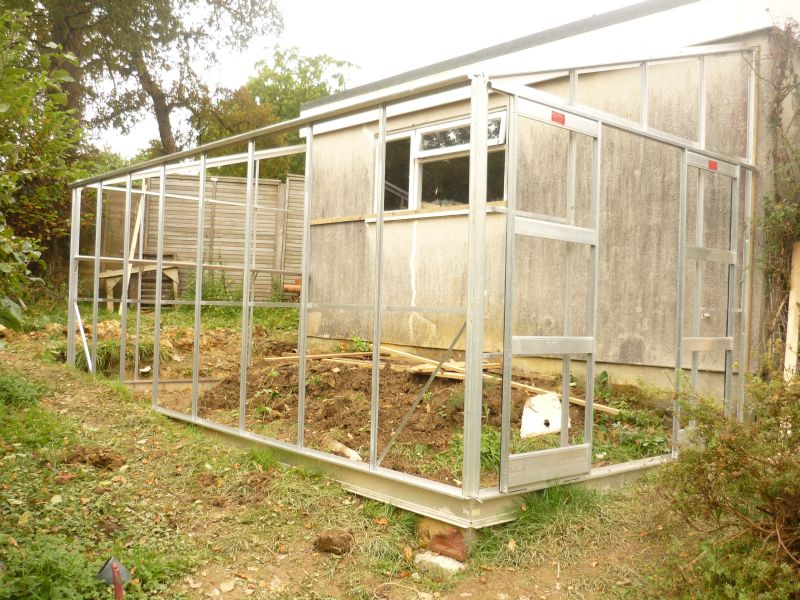 For many years I have taught permaculture courses, and like many who do so, I start my courses with the Tale of Two Chickens.  This is a very useful way of looking at inputs, outputs, and the science of maximising beneficial relationships, and it concludes with describing one of permaculture's Holy Grails, The Chicken/Greenhouse.  However, now, as I stand on the verge of actually trying to make a chicken greenhouse, I am finding it very difficult to find actual working examples of chicken/greenhouses.  Might I have spent years unwittingly promoting a permaculture urban myth?
The idea is straightforward and works brilliantly on paper.  Patrick Whitefield in 'Permaculture in a Nutshell' sets it out very clearly (you can read it here), and you can read the thinking behind the Chicken/Greenhouse  here. 
The picture below is taken from 'In a Nutshell', and captures the essential idea, which is that by placing the 2 elements of chickenhouse and greenhouse together with the proper orientation, you enable, via. good design, interactions to take place that otherwise would not take place and would require energy inputs to make happen.  For example, the warmth from the chickens keeps the greenhouse free of frost, the carbon dioxide from the hens benefits the plants, and so on.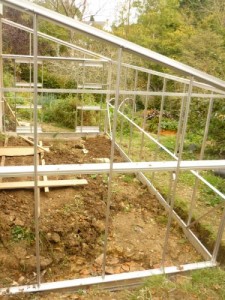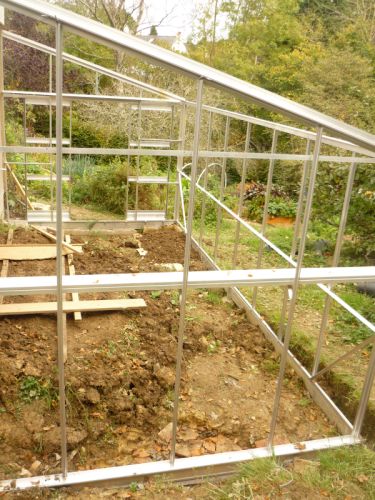 On paper it is simplicity itself, and has developed a kind of iconic status as an all-round Good Idea.  I regularly see people have 'aha!' moments when I teach the chicken/greenhouse, lightbulbs coming on in brains around the room.  In practice, I am starting to wonder.  I have spent the last couple of days putting up the frame of my new greenhouse, build as an add-on to a south-facing wall off my garage.  The greenhouse is 8′ by 16′ and is a deeply thrilling addition to family life. The picture to the left shows the west-facing aspect of it to which I want to affix my chicken house.
And next, here is the chickenhouse, a recent acquisition from a former Skilling Up for Powerdown student, who offered it in exchange for our going to collect it (she was moving house… it is not a regular outcome of the course that people, at the end of the course, get rid of their henhouses…).  It is a well built timber hen house about 4ft by 4ft, and the picture to the right shows the end of it that will be joining onto the greenhouse.  As you can see it has a vent at the top.
So, my question has been how do I most successfully join these two elements together, and has anyone done so, and most importantly did it actually work?  I remember in Ireland meeting someone whose father kept 5 chickens in his conservatory, and swore it kept it frost free… I also remember seeing somewhere a photo of one built at the permaculture project Graham Bell developed in Scotland, the name of which escapes me at the moment, but I don't remember where I saw it.  I have been looking around on the Web, and found case studies of chicken/greenhouses here, and here, but none of them are especially informative.  In search of a photo, one link (here) that promised a picture of a chicken/greenhouse, has it so far away in the picture and concealed behind trees as to be entirely useless.
What I am looking for is plans, designs, drawings, as well as articles by people who have built them, tested them, evaluated if they work or not, and who can offer their insights.  A couple of hours spent rummaging through my permaculture books and magazines, and a couple more on Google, have produced virtually nothing.  So, in the belief that I have been missing something, and that actually the world is populated by hundreds of well functioning chicken/greenhouses, I am putting out to you all for your thoughts.
My questions for both permaculture practitioners as well as for any engineers out there who may have thoughts to share are as follows;
What is the best way to connect them together?  Should I just take the side off the chicken house altogether and replace it with chicken wire, or make vents from the top and the bottom of the hen house coming into the greenhouse, or is there some other way of maximising the effectiveness of the heat exchange?  Presumably the place where the warmth from the chickens enters the greenhouse should be as low down as possible?
Presumably also the hen house needs to be as insulated as possible, so that any heat generated does go into the greenhouse rather than out through the walls?
Is it necessary to be able to close the vents at any time so they don't interact with each other?
So, this is a request for the collective wisdom of the Permaculture movement to rain down on my little chickenhouse…. help me out here.  Of course it might be the case that the ammonia produced by the chickens is such that any growth in the plants is simply burnt off by the accumulation of foul gases, or that if one forgets one summer morning to let the chickens out early enough, they simply roast in a what is unwittingly a highly effective solar oven.  Any thoughts (and in particular photos or design advice) gladly received.