25 Nov 2008
Oh For Heaven's Sake. Can We Get a Move On With Those New Cultural Stories Please?
As I mentioned yesterday, I was in London over the weekend, and my post Sigur Ros wanderings around that great city were fascinating and occasionally bewildering.  The recent to-and-fro with John Michael Greer and the editing work I am doing on the impending Transition Timeline report have really got me thinking about stories, the cultural stories we tell ourselves at this time of monumental change and how woefully inadequate most of them are.
Albert Bates has written brilliantly of how perhaps the closest we have in popular culture to an engaging depiction of the post oil world is, in fact, the film "Wallace and Gromit and the Curse of the WereRabbit", with their energy efficient terrace housing form of urban design, their low car numbers, their very strong local food culture, and their great use of appropriate technology.
Beyond that though, we struggle as a culture to find any stories other than our default ones.  Our main ones are the Business-as-Usual story, where everything carries on the same year after year, just with more of everything, the Collapse story, where we wake up one morning and the world has morphed into Mad Max and we eye each other more as potential meals than next door neighbours, or what David Holmgren calls 'Techno Explosion', where we can pop to the Moon for breakfast and the traffic looks like that scene in Star Wars where Anakin and Obi Wan are chasing the assassin and Anakin jumps out of the flying car thing in the multi-level high speed traffic.
What we don't have, and what we desperately need, are the stories about the culture that looked peak oil and climate change square in the face and unleashed its creative genius to fashion a dynamic and successful way through.  Struck me, as I wandered around London, that some of the messages that popular culture is throwing at people these days as they go about their business are about as far from that as it is possible to get, and are indeed decidedly unhelpful.
The first one was posters for a film which you see again and again on the Underground nowadays, called 'The Children'.  Sounds nice doesn't it?  Oh dear no; on closer inspection, the poster reveals something so appalling and inappropriate as to almost defy belief.  The tag line is amazing, "you brought them into the world.  They will take you out".
I have to say, as a generation of young people struggle to become Obama's "young people who rejected the myth of their generation's apathy", and to make sense of the rapidly changing world around them where nothing is as they expected it would be, and as the adults around them try to figure out how to inspire, enthuse, reskill and engage them in the great work of the next 20 years, this kind of message is singularly unhelpful (plus it looks like a completely crap film).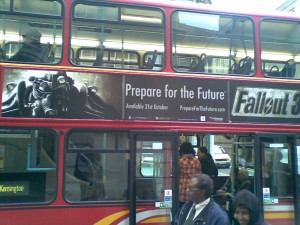 The second one was an advert I saw plastered on buses all over London, for a new PS3 game called 'Fallout 3'.  Now, we have already established, courtesy of my piece about Guitar Hero 3, and the comments that came in about it, that I am an old fart who doesn't play computer games.

What I am writing about here though isn't the game itself, which I haven't seen and therefore have no opinion of, rather the advert.  'Prepare for the Future' it screams.  As someone walking along the street minding my own business whose attention was grabbed by the advert, the eye is first drawn to the 'Prepare for the Future' bit, which then sets the mind wondering 'what future?'  Then check out the graphic that accompanies the title.  Some hulking great mutoid guy, completely dressed up in some kind of radiation suit (due to the 'Fallout', I imagine), living in some kind of post-apocalyptic world.  The Future?  Not much market gardening going on in this particular vision of the future.  I'm sure the game doesn't contain a level which involves pricking out chard seedlings and swapping chutney-making tips with the neighbours.
So anyway, as a small attempt to counter this absurd but increasingly pervasive nonsense, here's my small contribution, some absurd nonsense of my own.  It is a Transition Tale I wrote recently, and it made me giggle for most of the day…. but who knows… perhaps it may come to pass….
Prince Opens New Tate Gallery. From The Telegraph, June 14th 2014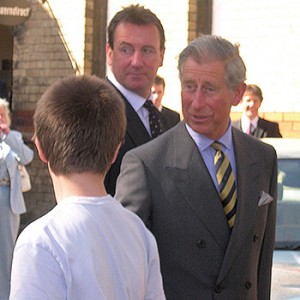 "Prince Charles yesterday opened the new Sunderland Tate Gallery, having travelled to the city on the "M1 Rocket", the coach system introduced so successfully last year, where on lane of the motorway is now dedicated exclusively to coach travel.
He arrived looking refreshed and rested, where he was greeted by hundreds of well-wishers. The Prince, who last year gave up travel by helicopter and aeroplane, has taken his role of "Post-Oil Royal" very seriously.
He was delighted with the new Tate, a zero-carbon building which spots a glazed market garden on its roof. Museum curator Jasmine McIntyre, conducted the Prince's tour of both the gallery and the garden, which supplies much fresh produce to the surrounding community. "He was thrilled by the depth of creativity the Tate embodies on all levels" she said.
The Prince denied that, ultimately, he had found the garden more interesting than the art, although onlookers said that he had appeared less than impressed with Damien Hurst's piece, "Scrotum Pole", which takes up much of the main gallery.