26 Nov 2008
The Transitioning of Second Life: by Katy Duke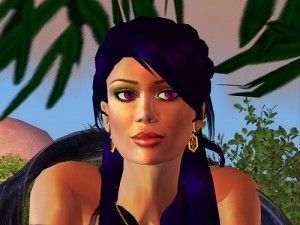 I have never actually looked at Second Life myself, but this article by Katy Duke is a fascinating look at how some people are using it to communicate Transition ideas.
Blogs… I'm hooked! (especially this one), what a phenomenally immediate way to communicate and learn… though reading them soaks up time. Well this summer I had some extra time for research, laid up with a bad back, so I tried to compile the five most succinct video messages about peak oil & climate change I could find online. Having spent some considerable time talking to complete head-in-the-sand sceptics (on a car forum), I was feeling the need for clarity & succour! What transpired was a rather novel and slightly bizarre method of communicating the message ….. here's how it happened….
I decided to see if I could construct a building designed many years before, when studying architecture, in a virtual world. Prompted by a former mayor of our transition town (Sustainable Frome), Jim Knight MP, I started to explore the 3-dimensional modelling tools in Second Life. Jim, now Schools Minister, had explored the educational potential of virtual worlds (The Naace Strategic Conference 2008 – was opened by Jim, or rather Jim's avatar in second life!). Second Life is a virtual world in which the landscaping and buildings are all created by the residents wherein a huge range of virtual events such as conferences are held.
I discovered a fascinating place where, through their invented 'avatar' persona (that's me on the left in the union jack frock & the blue hair), real people meet, build, converse and share knowledge in a virtual world with huge potential for education, invention, artistry and sharing. For people with disabilities it can give a real sense of freedom, as you are able to do things in Second Life that you are unable to in real life. You can fly for starters! You can visit three-dimensional models of many famous buildings and cities such as Dublin and Amsterdam, you can bungee-jump off Big Ben or go for a tour on the back of a dragon while having a conversation with someone in Japan, skydive, go F1 racing, visit Alice's Wonderland & float in a giant teacup…….
So what's all this got to do with transition? Well firstly I discovered 'Virtual Bali' where the conference was being relayed in real time to Second Life. Residents could put their questions 'live' to people at the event and interact without leaving their armchair. Then I discovered Etopia Island. This is described as 'an inspiring, futuristic and environmentally sustainable simulated residential and business community in the revolutionary virtual 3-D world of Second Life. It is an 'experiential educational and marketing concept designed to demonstrate real world social and environmental stewardship values and promote both virtual and real products, skills and services, which further that end.'
I got chatting to the owner of the island, known as WilliamThewise Goodman in Second Life but in real life he is Zev Paiss, an American educationalist specialising in co-housing training and living in Colorado. His vision is to use many tools to educate in sustainability. Zev works with executives, developers, green builders, land owners & entrepreneurs to assist them to take their business or project to efficient and financially successful levels of sustainability. He regularly teaches classes and facilitates discussions on a variety of sustainability topics, providing meeting space for individuals and companies from all over the world on Etopia Island.
The opportunity to use virtual worlds for educational purposes is just beginning to be explored. Companies are seeing how they can expand their reach and the ability to sell products and raise awareness of their company through virtual worlds. Offering classes and conducting meetings is both functional and interesting for their employees. IBM saved $10 million dollars in travel and meeting expenses by conducting staff meetings and trainings via the virtual world Second Life.
I suggested to Zev that the short YouTube videos I had found in my search for succinct messages would work well on Etopia, where attention spans might be rather short. After a few technical wrangles and help with scripting the five films are now available for viewing in the Clock Tower on the island and Rob's words are being shared with a whole different audience! You can get to Etopia & try them out for yourself here (beware it will take you a while to learn how to walk & fly) or otherwise follow the links to YouTube on the Sustainable Frome website.
Catch up on the lecture and events calendar at the Etopia Island blog.
Shortly after this Zev invited me to join one of the panel of experts at a two-day event held on Etopia entitled 'Time for an Oil Change'. Etopia hosted a concert, panel discussions, bike rides, sailing tour, freebie hunt, videos, exhibits and displays with the aim of touching more people in SL and all over the globe and inspiring changes in our world. I'm no 'expert' but I couldn't resist the challenge, so I put together some facts & figures, set up a 'notecard' to give out to attendees giving information on the Transition movement, links to Richard Heinberg & David Strahan websites and just leapt in with both virtual feet. I was joined by a heat pump expert, XLR8RRick Hudson, JimmyJet Fosset talking on US efforts to find and use alternative energy resources and using virtual worlds to model alternatives, Solar Sierra, a High School physics teacher who runs a non-profit organization for educators interested in energy and Planetthoughts Raymaker, aka David Alexander, an enthusiastic Tai Chi Chuan practitioner and teacher who speaks on Online Environmental Activism.
Second Life allows virtual interaction while discussing issues, adding a personal angle to discussions, and an immediacy close to actually being there together, so when I was sitting on the stage with others who were definitely more expert than I, it really did feel as if I was there and everyone joined in the lively discussion (transcript available but you really had to be there!). Afterwards I mounted my bamboo bike & went on a tour of the island…….
Notes;
I am currently tackling the first stages of Frome's Energy Descent Action Plan with our EDAP group as we head towards their Great Unleashing (hopefully at the Green Fair of the Frome Festival next July)
Zev is currently getting excited about the Transition Training Tour visiting his country & is on the waiting list for the presentation in California (even though it is 1000 miles from his home!) – he is an ideal candidate for spreading the word.
See how Learning 4 Life use Second Life as a learning tool
Using Virtual Worlds in Education Programs
Second Life Education Wiki
Flying the virtual way – article & video of Virtual Bali
Press coverage for Virtual Bali