20 Jan 2009
What Would You Ask a Business Leaders at DAVOS? Now's your chance…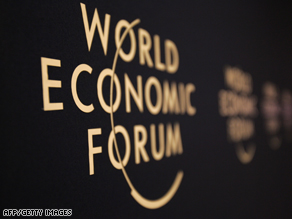 CNN has invited Transition Culture and some other bloggers to submit questions to be asked to business leaders at the DAVOS summit in Switzerland.  They write "as part of this year's "Dear Davos" coverage, CNN is inviting a selection of influential bloggers to submit their questions to be put to our guests during our daily coverage".  So, I am throwing this over to you lot, and will pick the one I like best.  I know how you like deadlines… your questions need to be in to me by 2pm THIS Friday.  No pressure.  Please post them as comments at the bottom of this piece.
They offer some tastes of question asked so far;
"Should we be more concerned with the concept of what Margaret Thatcher used to call "sound money" than trying vainly to spend our way out of a recession?"
Iain Dale
"Businesses still seem to be on the sidelines during the U.N. international climate negotiations. Lowering global carbon emissions relies on creating a new low carbon economy, so should businesses have a greater role in putting together a post-2012 climate change plan? If so, how could businesses best aid negotiations / If not, why not?"
Zara Maung
"When I was in China two months ago I noticed the extreme pollution, but I also noticed that they were copying western consumer habits (like buying American SUVs). How can we convince the rest of the world to fix their pollution problems when we can't even convince Americans to buy smaller electric cars?"
Robert Scoble
So it's over to you.  I'm sure you'll come up with some killer questions, and hopefully they'll get picked and we'll be able to make some people think.  I look forward to seeing your questions….