22 Jan 2009
The 200 Artisan Skills Required to Make a Victorian Town Functional
The discussions that followed the publication here of the Transition Declaration of Independence, the story emerged of the list of 200 skills needed in Victorian times that appeared in the last 2 pages of appendices from "Victorian Oamaru : A vision For The Future" by Michael O'Brien, which was printed by hand and not available electronically. Thanks to Corinne for typing this up and to Ted for finding it. I've got my name down for pie-maker.  Insurance salesmen take note.  It is interesting to read this in the context of Richard Morrison's comment in his column in today's Times: "I think we may be on the cusp of the most surprising social change in our lifetimes: a rediscovery of the pleasures to be had in thrift, in simplicity and in parochialism…I wouldn't wish the return of Spam on anyone. But the rest? A New Age of Austerity might be quite refreshing."
So, those 200 Artisan Crafts in full…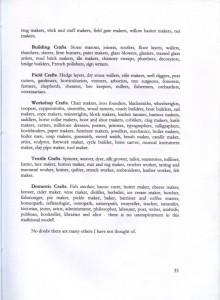 Woodland Crafts. Coppicers, hurdle makers, rake makers, fork makers, besom makers, handle makers, hoop makers, ladder makers, crib makers, broaches and peg makers, clog sole cutters, bodgers, charcoal burners, oak basket makers, trug makers, stick and staff makers, field gate makers, willow basket makers, net makers.
Building crafts. Stone masons, joiners, roofers, floor layers, wallers, thatchers, slaters, lime burners, paint makers, glass blowers, glaziers, stained glass artists, mud brick makers, tile makers, chimney sweeps, plumbers, decorators, bridge builders, French polishers, sign writers.
Field crafts. Hedge layers, dry stone wallers, stile makers, well diggers, peat cutters, gardeners, horticulturists, vintners, arborists, tree surgeons, foresters, farmers, shepherds, shearers, bee keepers, millers, fishermen, orchardists, veterinarians.
Workshop crafts. Chair makers, iron founders, blacksmiths, wheelwrights, coopers, coppersmiths, tinsmiths, wood turners, coach builders, boat builders, sail makers, rope makers, wainwrights, block makers, leather tanners, harness makers, saddlers, horse collar makers, boot and shoe makers, cobblers, clog makers, knife makers, cutters, millstone dressers, potters, printers, typographers, calligraphers, bookbinders, paper makers, furniture makers, jewellers, mechanics, boiler makers, boiler men, soap makers, gunsmith, sword smith, brush maker, candle maker, artist, sculptor, firework maker, cycle builder, bone carver, musical instrument maker, clay pipe maker, tool maker.
Textile crafts. Spinner, weaver, dyer, silk grower, tailor, seamstress, milliner, hatter, lace maker, button maker, mat and rug maker, crochet worker, tatting and macramé worker, knitter, quilter, smock worker, embroiderer, leather worker, felt maker.
Domestic crafts. Fish smoker, bacon curer, butter maker, cheese maker, brewer, cider maker, wine maker, distiller, herbalist, ice cream maker, butcher, fishmonger, pie maker, pickle maker, baker, barrister and coffee roaster, homeopath, reflexologist, osteopath, naturopath, storyteller, teacher naturalist, historian, jester, actor, administrator, philosopher, labourer, poet, writer, midwife, publican, bookseller, librarian and idiot – there is no unemployment in this traditional model!
No doubt there are many others I have not thought of.