9 Mar 2009
Foodzoning the Foodshed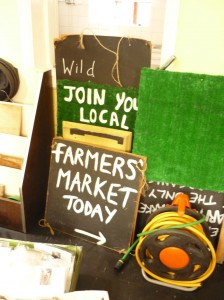 Here are two very interesting concepts I've come across recently that feel worth sharing. One is Julie Brown of Growing Communities' 'Food Zones' idea, and the other is that of the 'Foodshed' or 'Foodshed Analysis'. Both hold key pieces of the Energy Descent Pathways jigsaw, and we are actively looking at how to make best use of them in the Totnes EDAP process. Clearly the Transition movement has developed a strong ethic that increasing the resilience of a settlement necessitates, among other things, a food system that grows as much food as close to home as possible. But what might that actually look like?
Growing Communities is a fantastic initiative I was lucky enough to visit last year, based in Hackney in London, which sources produce for 450 vegetable boxes a week as well as supplying a farmers market, based on the principle of sourcing as much food as close to home as possible. Three market gardens within Hackney itself provide some of the salads and other produce, and they have a close relationship with several farms on the edge of the city (you can hear Julie's talk at last year's Soil Association conference here).
Julie's model attempts to pin down what percentage of what, in an ideal, relocalised food system, would come from where. Could Hackney grow all its own vegetables? Of course not. But it could, if it really went for it, Julie suggests, grow 2.5% of its total food consumption. Could the revitalisation of urban market gardening and the cross-city trading of city-grown food feed a city? Again, of course not, but it could perhaps supply 5%, if it focused on salads and leafy greens as well as fruit. The land on the edge of the city (peri-urban), its greenbelt, could grow 17.5%, if it became commercially viable again to do so, and if the city were to create sufficient market and demand. It would focus on fruit, vegetables and some field scale produce.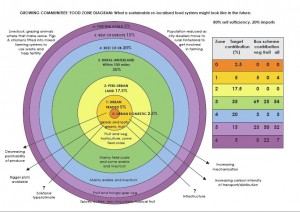 The rural hinterland within 100 miles of the city could produce 35% of the city's food needs, mostly through field scale produce and some arable and livestock, requiring a greater degree of mechanisation. Another 20%, mainly arable and livestock, requiring a greater degree of mechanisation, could come from within the UK and the rest, the hungry gap veg and fruit, as well as spices, tea and so on, from overseas.
Julie acknowledges that this is a very rough initial stab at trying to put some figures on a future food production system, but there is much about it that is extremely insightful. Her model has, of course, much in common with the permaculture concept of zoning, but applied on a wider geographic scale. At the moment, there are hundreds of organisations promoting local food, organics, permaculture, agroforestry, fair trade, urban agriculture and so on. Clearly all these organisations have roles ot play, but what are they?
What's great is that with this model, the roles for the various organisations start to become clear. The urban agriculture people can focus on trying to achieve that 2.5% most effectively, knowing that the rest of the needs are being built up elsewhere. The organic farming organisations and the broadscale agriculture bodies can have a tangible target for how much food agriculture needs to produce organically across the country, as well as looking at how to build those food links. The food links people can focus on the creation of demand.
The planning system in relation to the land around cities will need to take into account specific targets for the amount of land that will need to be permanently exempted from the planning process in order to enable to creation of new market gardens. Suddenly, rather than a melange of activity and organisations replicating each others's work and doing much the same things, everyone has a clear role and something clear to aim at.
The second concept I have been finding very useful is that of the Foodshed. Originally a term coined in 1929 by Walter Hedden, who was prompted by the threat of a rail strike and its potentially ruinous impact on the food economy of New York City to explore the flow of how food actually gets to urban areas. It was picked up again by permaculturist Arthur Getz in an article in Permaculture Activist (which I have, but can't find an electronic copy of) as a concept for defining the idea that food is grown as close to home as possible, and that this needs to be looked at systematically. The concept of the Foodshed and the existing literature on it is described in a paper by Peters et. al. published last year, which you can download here. There is also a paper about foodsheds by Kloppenburg et.al. here and an interesting paper from the President of the Borough of Manhattan called 'Food in the Public Interest' here.
What we are doing in Totnes , as part of the Totnes and District EDAP, is to try and integrate Simon Fairlie's 'Can Britain Feed Itself' approach, Julie's Foodzones and the Foodshed concept. What we hope to produce, with considerable help and input from the wonderful Geofutures in Bath, is a version of Julie's Foodzones which is based on quantitative data, so we can be specific about the amount of what that might come from where. It is proving to be a fascinating process. Feeding Totnes and district with vegetables is easy. Feeding it with cereals and grains is harder, but it is the meat that is by far the hardest. There are 346 hectares of back garden space in the area, but how much of that is usable? How much new woodland would we need to plant?
This, for me, feels like a thrilling cutting edge place to be working. Our longer term aim is to create an online tool for Transition groups anywhere to be able to work out how much land they would need to feed themselves and to do this work in great depth. The Totnes pilot will enable us to work out exactly what this will look like. We will keep you posted on this. In the meantime, have a look at these two approaches, they both have a great deal to offer for the food relocalisation movement and for Transition.