10 Mar 2009
Booking for the 2009 Transition Conference is now open!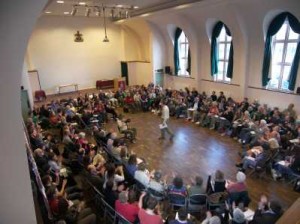 The 2009 Transition Network Conference (theme: 'Transition Everywhere') will be held at the Battersea Arts Centre, Lavender Hill, London, SW11 5TN. It will run from noon on Friday 22-May through to 14:30 on Sunday 24-May.This is the main event in the annual Transition calendar and is the opportunity to immerse yourself in what is happening in Transition initiatives around the world. The 2009 conference will be our biggest yet, keeping the best of what has gone before and adding many new and exciting special attractions!
We are looking to limit places to around 350. The actual programme is in the process of being finalised, but you can check out some mouth-watering glimpses of this work-in-progress. The conference will be a smorgesbord of fascinating workshops and open spaces – sessions that cover "outer work" and "inner work"; deep analysis and creative outpourings; bruised shins and soaring voices. We're also going to be holding 1 and 2-day training courses before and after the main programme.
During the conference, we're also holding two public evening events on Friday and Saturday, including the premiere of the Transition Movie, the Southbank hit "EDAP in two hours", and some truly inspirational speakers.  For costs, booking details, accommodation and so on, click here.  Demand for the Transition event of the year is expected to be heavy, so don't delay!