11 Mar 2009
Classic Book Review: How to Grow More Vegetables Than You Ever Thought Possible (etc. etc.)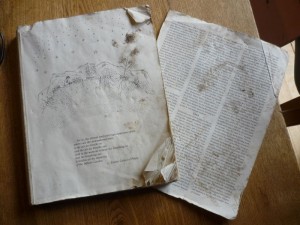 How to Grow More Vegetables: and Fruits, Nuts, Berries, and Other Crops Than You Ever Thought Possible on Less Land Than You Can Imagine. John Jeavons. 10 Speed Press.
This is not a new book, but given that it is the time of year when your thoughts may well be turning to gardening, I thought it might be useful for me to wax lyrical about what might lay claim to being one of the greatest gardening books of all time. 'How to Grow More Vegetables' wears its heart firmly on its sleeve, and sets out to teach you to do exactly what the title suggests. It has been my gardening bible for the last 10 years, and as you can see (left), my copy is well loved, covered in muddy thumbprints, having regularly accompanied me into the garden.
The book sets out the approach Jeavons has developed, which he calls 'biointensive'. Biointensive food production has been defined thus;
The `biointensive` method is an organic agricultural system which focuses on maximum yields from the minimum area of land, while simultaneously improving the soil. The goal of the method is long term sustainability on a closed system basis. It has also been used successfully on small scale commercial farms.
Like many great things, it emerged from the same fertile period in the mid 70's, bookended by the 2 oil shocks of '73 and '79, that produced other gems like permaculture design and passive solar building. The book begins with a look at historic precedents for gardening systems that aim to grow the most amount of food on the least possible ground. The Chinese were good at it, and so were the Mayans, the Greeks and the French, developing systems that used deep raised beds, lots of compost and also tight plantings, where plants are planted as close as possible together in triangles, like the 5 on a dice.
One of the great achievements of the book is how it highlights the absurdity of many gardening practices. On a conventional allotment, the whole thing is dug over, manured, and then rows are marked out, with the plants being planted in rows as the gardener walks up and down between the rows to look after them. Sounds logical in theory, and is has been the unchallenged orthodoxy for many years. But in practice, what is happening is that you are manuring the paths as much as the beds, digging the beds and then compacting the soil in them back down again, leaving space for weeds to grow in ground you have kindly manured for them, and basically creating several rods for your own back.
In the biointensive system, the raised beds are double dug, so as to maximise the depth of root penetration, and from that point forward, compost is only added onto the tops of the beds, which are never walked on. Most plants are started first in modules or in flat trays and then planted out into the beds on the tight spacings. This means that if you plant, say, lettuces, you may need to give a light weeding after a couple of weeks, but beyond that, they grow over and make a canopy, so there is no room for weeds to grow. Brilliant.
The successful application of the biointensive mode requires a lot of compost, but as we saw yesterday, there's nothing wrong with that. This book goes through the key elements of making good compost, although his system of gathering all the materials and making the whole heap at once is never one I have managed to get the hang of, I tend to make them as I go, a process that takes longer, but still produces good compost at the end.
The book argues that the key aspects of biointensive food production are deep bed preparation, composting, close plant spacing, companion planting, the use of open pollinated seeds, and taking a whole system approach. The first year I had this book, I really went for it. The results were amazing. Since then, I always use this approach, albeit in a slightly adapted form (I used raised beds, close plantings, make compost, use companion planting, but tend to try and adapt them for a no-dig system). I usually start plants in modules, and I always use the spacings set out in the book, based on many years of research by Ecology Action (the organisation researching biointensive systems), first through the work of Alan Chadwick, and then Jeavons.  I swear by this approach.
Jeavons expands the biointensive concept to what he calls 'mini-farming'. This is the growing of a range of foods, including grains and pulses, on the same system. In 'How to Grow…', Jeavons argues that if the US were to convert all the land it currently dedicates to lawns to biointensive food production, something like 97% of the landscape could be returned to natural systems and wilderness. Even if he's only half right, it's a wonderful aspiration. Jeavons also is a big fan of planting by the moon, that there are certain days when it is best to do certain jobs in the garden, there are particular days when it is best to sow seeds, other days when it is best to work with root crops.  I use the same system. although in mine, those days are called "weekends".
If you have a copy of this, Joy Larkcom's 'Grow Your Own Vegetables' and Charles Dowding's 'Organic Gardening', that's really all you'll ever need.
(Here is the Wikipedia entry for Biointensive growing, and Ecology Action's website).