19 Mar 2013
Every now and then I do a round-up of books you might find interesting, the ones that are accumulating by my bedside.  Haven't done one for a while, so here are a few books that you might enjoy that I have found especially fascinating of recent.  I have also given the links to where you can buy them direct from the publisher, should you so wish.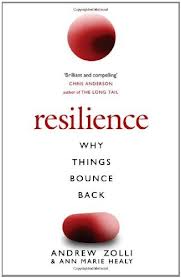 1.  Resilience: why things bounce back.  Andrew Zolli and Ann Marie Healy (2012)  Headline.  
I'd go so far as to say that this is the best book I have ever read on resilience.  After as good an explanation of the core idea as you'll find anywhere, 'Resilience' goes on to look at what it looks like in relation to individuals, groups, communities, and society as a whole.  I found it fascinating, packed with insight from a range of fields and disciplines, and inspiring in the clarity of why this stuff matters.  I particularly liked the bit that said "no such system is ever perfect, indeed just the opposite: A seemingly perfect system is often the most fragile, wile a dynamic system, subject to occasional failure, can be the most robust.  Resilience is, like life itself, messy, imperfect, and inefficient.  But it survives".  If you only read one of these book suggestions, make it this one.