22 May 2012
Randers: "Don't teach your children to love the wilderness". Discuss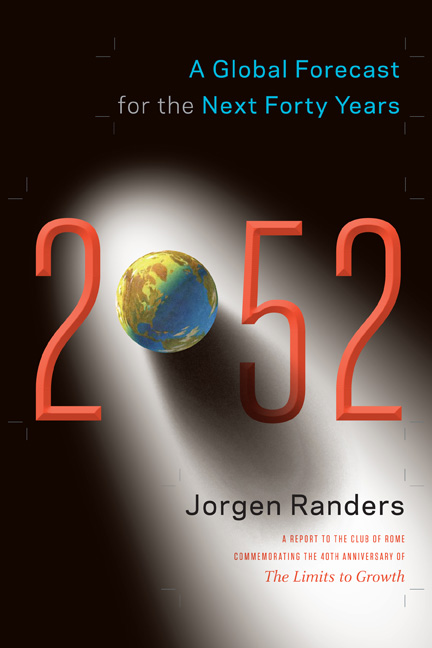 I am reading Jorgen Randers' new book '2052: a global forecast for the next forty years', due for publication next month.  Imagine a 'Limits to Growth' for the next 40 years, a presentation of Randers' best guess as to how the world will pan out between now and 2052.  As you can imagine, it's not an uplifting read, but it is often illuminating, even though I disagree with some of his findings.  Surprisingly, the most challenging bit comes at the end of the book, after all the graphs and charts, and talk about 2 degrees of climate change, of our inevitable mega-urbanisation and so on.  It will hopefully prove to be the spark for a fascinating discussion here.
There is a section called "What Should You Do?" which is usually the part in such books that picks you up a bit, and makes you believe that you can do something to alter the projections he has previously set out.  There are some great bits of 'personal advice' in there, such as 'focus on satisfaction rather than income', 'do not acquire a taste for things that will disappear', 'stop believing that all growth is good', and 'in politics, remember that the future will be dominated by physical limits'.  Fair enough.  But there is one there that is so spectacularly depressing that I really needed to bring it out here and look at it with some other people.
It is "don't teach your children to love the wilderness". Randers reasons that over the next 50 years we will see the ongoing erosion of biodiversity and wilderness, due to climate change and humanity's reach into more and more remote areas.  A love for "old, undisturbed nature", he argues, is something it will become increasingly difficult to satisfy.  "By teaching your child to love the loneliness of the untouched wilderness, you are teaching her to love what will be increasingly hard to find", he argues, which will lead to unhappiness and despondency.  "Much better then", he concludes, "to rear a new generation that find peace, calm and satisfaction in the bustling life of the megacity – and with never-ending music piped into their ears".  That must rank as one of the most devastating visions of the future I have read anywhere.
This links to another of his pieces of personal advice, "invest in great electronic entertainment and learn to prefer it".  I'd be fascinated to hear your thoughts.  Might a move to a world that has successfully decarbonised itself only be possible if we are to disconnect from wilderness?  I know what I think about it, but I'd love to hear from you.  Is this something that fills you with horror, or are you pleased to finally see someone taking what strikes you as being a realistic angle on this?  Discuss.