19 May 2012
Here is a list of the books I am working my way through at the moment or have recently finished, I hope they might point you to some recently published books you may find useful and interesting.  So, in no particular order: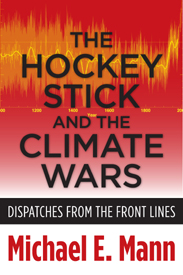 Michael Mann (2012)  The Hockey Stick and the Climate Wars: dispatches from the front lines.  Columbia University Press. 
Michael Mann is the principal creator of the (in)famous 'Hockey Stick' graph which showed that the warming of the Earth's atmosphere over the last 100 years is in excess of historic warming, and clearly linked to increased CO2 emissions.  The graph achieved great prominence, as a result of which he became a target of the fossil fuel industry, in particular during the co-ordinated assault on climate science known as 'Climate Gate', where emails, including his, were hacked from the University of East Anglia.