20 Mar 2009
I'm With Stupid
While I love the film The Age of Stupid, and am completely in agreement with the aims of the campaign that is emerging from it to get a strong and deep agreement at the Copenhagen climate talks, there is something about the 'Not Stupid' campaign that sits uncomfortably for me. At Eden, where I was, there was a sign saying 'Eden Project – Not Stupid'. I'm sure the Eden Project isn't stupid, but this labelling of things as stupid and not stupid feels deeply alarming to me. Since the film premiere on Sunday, I have heard about two people I know who saw it, who were moved by it, felt touched and affected, yet who are planning trips by plane, one to Hong Kong for Christmas, and one to the US for a spiritual retreat.
That, the logic goes, is pretty stupid, and I am hard put to disagree. Yet who could have sat in the cinema on Sunday night and been able to argue convincingly that their daily lives are utterly carbon free or even that they live within their carbon allowance? How many people in present day Western society actually have a carbon footprint of 1 or 2 tons? I don't, although goodness knows I try. That makes me, and probably you, I suppose, stupid too.  Feels to me like we'd be more skillful to understand such thinking and work with it, than to dismiss it as Stupid.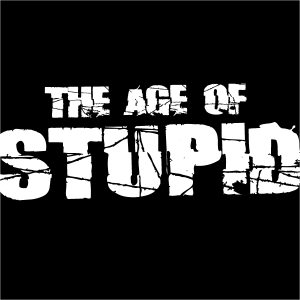 If George Monbiot was right earlier this week, and we really have passed many of the key climate tipping points, then not only does that constitute the spectacular failure of capitalist economics identified by the Stern Report, of the perpetual growth model, and a failure of successive Governments to actually govern when called by circumstance to do so, but it is also a failure of the protest movements and alternative culture to actually engage people in sufficient numbers in building a credible alternative.  No-one has emerged from the time running up to those tipping points as having actually done anything of any notable impact, despite all of our best intentions.  James Hansen this week called for more protest and direct action, and of course, that has a powerful place and we need more of it.
However, what concerns me is the introduction of the polarity that goes with starting to label things 'Stupid' and 'Not Stupid'.  Yes, it is easy to label Kingsnorth stupid, and also the third runway at Heathrow Airport.  They are, by any rational consideration, pretty daft, indeed suicidal.  But is my friend going to Hong Kong for Christmas more stupid than me?  Possibly, but the reality is that most peoples' lives are a complex mesh of compromise, insecurities, social pressure, enticement from advertising, the daily struggle just to keep their head above water and so on.
I don't feel that labelling certain things 'Stupid' really addresses the complexity of our situation, and may indeed do more harm than good.  If someone were to label me stupid because of something I was doing, something I may be attached to in my life, it would boost my 'sod off' response, rather than my 'hang on a minute, perhaps these people have something I need to listen to here' response.  Although my personal perception of the decision that was taken, say with regards to the third runway, is that it was stupid, that decision-making process involved a lot of thinking and weighing up of factors, and we may learn more by trying to understand those, than just by dismissing the whole thing as 'stupid'.
Take me as an example.  I have solar panels, I have insulated my house, I don't have a car and I don't fly.  I grow food and I make compost.  However I still do things that generate carbon, probably, given the size of my family, quite a lot of carbon.  I still live within a consumerist society and I can rarely afford locally made, organic fibre clothes and so end up buying clothes from goodness knows where with goodness knows what impacts.  I borrow a car sometimes if I need to do certain trips.  I buy books and still like to buy CDs, I like to take the odd bath now and then because a bath is somehow a more all-round relaxing experience than a shower.  I do sometimes eat out of season, non-local food.  I like chocolate.  If its been cold and damp for a long time and my kids need clothes to wear that day and they haven't dried by any other means, I have even been known to use a tumble drier.  I'm no saint, but who is?  Does that make me stupid?  Quite probably.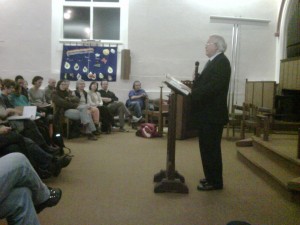 Earlier this week we had Don Beck, one of the founders of the Spiral Dynamics approach in Totnes for a talk.  It was very interesting, and I found myself warming to the idea (I had been ambivalent about it in the past).  The idea in a nutshell is that people and cultures evolve through a series of observable stages, of what they call 'memes'.  These echo the stages most cultures move though, from red, which is more tribal pattern, through blue, which is the authoritarian and order-filled stage, to orange, which embodies a powerful business ethic, and which gauges its success on its achievements, to green, which is very egalitarian and communitarian, and then to yellow, which is about integration.
I had always thought of Spiral Dynamics as offering a pretty simplistic overview of humanity, one in which each person who came to it placed themselves higher in the system than everyone else.  This is an misunderstanding, Beck said.  In every person, each of the 7 memes are existent, pulsing at different strengths at different times.  One can have a very orange approach to one area of life, and very yellow in others.
My personal 'aha' moment came when someone asked Beck "if the aim is to move everyone through all the stages until they reach the yellow meme, then surely, given the speed of climate change and peak oil, we've had it?"  Again, said Beck, this is a misunderstanding.  The aim is not to move everyone through.  The idea is to acknowledge and respect that in any community, there are people and institutions at each of these levels.  And what is vital is not that everyone 'goes yellow' as it were, (or completely 'not stupid') but that every meme manifests in a healthy version of that meme.
For example, the blue meme is about self sacrifice, a code of conduct, strong values everyone having their place, laws and regulations.  It is a very conservative mindset.  In its unhelpful manifestation can be seen, for example, in my local District Council, very conservative, knows what's best, doesn't want community involvement as it knows how to do everything thank you very much, business comes first.  In a healthy manifestation though, it is about harnessing the ability such a meme has to get things done, to work with focus and with values to make things happen.  The green meme is about caring, political correctness, exploring feelings and sensitivity, using consensus and so on.  It is the meme of alternative culture.  In its unhealthy manifestation, it becomes collective navel-gaving and stuck in the tyranny of structurelessness.  In its healthy manifestation it offers the heart and soul aspects of Transition, insights from holistic thinking, deep democracy and so on.  You can find some great insights into how to communicate sustainability to people at each meme in a series of excellent presentations here.
My feeling is that if, say, a town like Totnes, is to successfully Transition, it needs all of those memes, all the sectors of society, working together in pursuit of a common goal.  For me, this is a very useful way of looking at it, because it stresses that interventions need to be made strategically.  Rather than a Transition group raising awareness by showing the End of Suburbia to the usual people who come to watch such things, perhaps a series of talks to the local Conservative Club and Rotary Club, based on appealing to their core values of local economy, responsibility, conservation and so on, would actually unlock more momentum, and unleash more energy?  Perhaps the business community need to be focused on more at the initial stages?  We need to be strategic here, not beat people round the head, as that very clearly has failed as an approach.
Clearly we have very little time left to turn this round.  The Age of Stupid clearly makes the point that this is a historic crossroads for humanity.  At such a point it feels useful to reflect on the tools we have had thus far and how useful they actually are.  It has long felt to me like we need more than just protest and direct action, and that big societal changes are either imposed by totalitarian governments, or they are driven by an inspired, passionate populus with a shared sense of vision and purpose.  I would certainly favour the latter myself, but one does not create that by putting 'Stupid' stickers on things, organisations and people we don't like or that we feel are acting in a misguided way.  We run the danger of invoking a mass 'sod off' response.  We are all, to varying degrees, stupid.  Yet we are also all brilliant, creative, driven, inspired, passionate geniuses (genii?), to similarly varying degrees.  It will be those qualities that will get us out of this, not our stupidity.  I may well be stupid, but I am a lot more than that too, as are we all.