17 Apr 2009
An Update on Totnes Nut Tree Plantings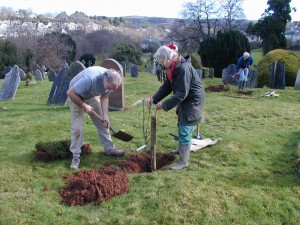 Here is an excellent update on the nut tree plantings taking place in Totnes, those of you doing similar things in your communities might find this useful…. my thanks to Wendy for documenting this.
Background:
TTT started a nut tree planting scheme in Totnes in March 2007, with the planting of a few varieties of nut trees on Vire island. The vision behind this scheme is to provide another source of nutritious food for the community in the future.
During the winter of 2007-2008 further plantings happened on Longmarsh, Borough park playing fields, Follaton gardens and several sites in Bridgetown. Some people volunteered to be guardians of the trees, to watch their growth, and nurture them.
Most of them have survived, despite a lot of flooding on Longmarsh, and some battering of trees surrounding playing fields in Bridgetown.
This winter's planting 2008/2009:
On December 14th 2008, a small group of residents of Meadow Close in Bridgetown, including several children, planted a new orchard of apples and pears and almonds on a site adjacent to the close. The process was helped along by mulled wine and mince pies! West Country Housing provided the funding for the trees and Tor Homes provided the stakes and mulch.
The weather was kind to us on a further planting day took place on Jan.24th 2009, a combined effort between our TTT nut tree planting project and Trees for Health and South Hams District Council.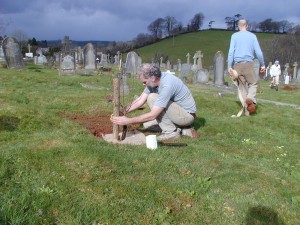 About 20 of us joined in planting more trees in Follaton Gardens, mulching some of the ones planted last year, and putting in 3 almond trees in the Town Cemetery. We were specially glad of the help of 2 children, Esben and Reuben, and hope they will enjoy telling their grandchildren about the putting in of all the huge sweet chestnut and walnut trees that will be flourishing in those gardens in 70 years time!
On Sunday March 1st 2009, we had another sunny planting day on Longmarsh, putting in more sweet chestnuts and walnuts and hazel trees. The indefatigable Esben helped us again, and a small group of adults also helped Tim Pollard [SHDC] and Liz Turner [Trees for Health] and me. We were reminded by a man who spends much time on Longmarsh that the shading of the Longmarsh meadow site when the nut trees grow big, will banish some of the more sun-loving plants. In deference to his knowledge of this site, we avoided a patch of meadow where orchids have been spreading the last few years. Hard decisions for us to make for future generations between the flourishing of all species of plants, and more specifically the ones that are useful to us humans.
On the same day, we re-planted 4 trees on the Pathfields playing field that had got damaged last year, with help of 2 boys, Alhor and Jordan, who both overlook the playing field from their homes and play on it.
On Mar.4th. a small but strong group of us planted another 7 fruit trees on the Town Cemetery site amongst the old graves. These are all potential Memorial trees for anyone who wants to buy one from the Town Council in memory of their dead friends or relatives. Liz Turner again supported us, and Tim Pollard, with equipment, and Ruth Robinson, Town Councillor, who has given much support to the Nut and fruit tree planting scheme, was there to photograph our labours!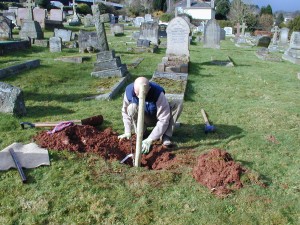 The last tree planting of the season was undertaken by the residents of Sparrow road, who planted nut trees on their road on Mar.13th.
The response to our appeal for donors towards nut trees this year was fantastic. Many thanks to all individuals who have donated, and to South Hams District Council and West Country Housing association.
We are left with some funds towards next year's planting.
Future plans:
1] We have become more aware this year, Teresa Anderson and I, that the number of sites for planting more big nut trees within the town, are rapidly shrinking, even on Longmarsh and Follaton gardens, and certainly in the residential areas.
There is still some potential for more planting of smallish trees, almonds and some fruit trees, within residential areas, where the folk living them may welcome the food source without being too shaded out.
2] Perhaps more individuals, farms, landowners with land around Totnes might be interested in planting more big nut trees on their land, the fruits of which can ultimately be sold or bartered ?
3] A more integrated approach to edible planting within the town boundaries,[ small trees, shrubs, climbers], may evolve between all interested parties to making Totnes a more attractive, green, and fruitful place. When the time is ripe, many of those with responsibilities for highways and open spaces and tourism and trade, as well as residents, may need to come together to envisage this and work towards it, if it is what we all want.
4] More people always welcome to join this project.  Anyone who wants to join in the Tree planting scheme, or sponsor a tree, or be a tree guardian, please contact either Teresa Anderson on teresa (at) gaianet.org, or Wendy Stayte, at wendystayte (at) yahoo.co.uk
Wendy Stayte