20 Apr 2009
A Weekend of In-Depth Transition Coverage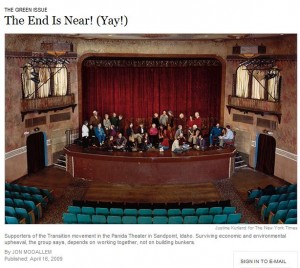 While most of the papers this weekend were obsessing about Susan Boyle, there were also three of the most in-depth and high profile pieces about Transition yet to appear in the media.  The first was a 5,000 word piece in the New York Times' Green Issue called The End is Nigh (yay!) by Jon Mooallem.  Although parts of it make my toes curl, it is, overall, a fascinating piece, focusing mostly on Transition Sandpoint, and how the process is going there.  Amazing to get such in depth coverage in such a publication, and a huge boost to the work of Transition US (check out their new website, and a short 'welcome' film I did for them recently). 
The second was in, of all places, Elle magazine.  Entitled Do Worry Be Happy, it looks at the psychology of Transition, and is a piece based on the journalist's immersing herself in Transition.  A very positive piece, although after my delight at a recent piece on Canada's CBC describing me as "a thin man in his late 30s', I was less enamoured with this piece referring to me as "an adorable looking English academic with jug ears".  Great piece though.
My favourite of the three was in the Sunday Times, and was by old friend of Transition and Transition Belsize activist John Paul Flintoff, entitled Why we forgot how to grow food.  A rip-roaring stomp through John-Paul's allotment, cycling round Brixton with Duncan Law looking for windfalls, and getting his neighbours gardening, it somehow captures the spirit of Transition more than the other two.
A pretty amazing collection of articles for one weekend.  My favourite thing that I read this weekend though was Peter R0binson's review of Eoghan Quigg's album. Well worth a read for that variety of ways he tries to communicate just how bad it is, including the wonderful;
…on closer inspection it strikes a very clever balance. It is an album which at once satisfies demand for one Eoghan Quigg album and ensures that there will never ever be demand for a second.
I am off to London today for a 'Big Energy Shift'  event, but will be back here tomorrow with something a bit more indepth.  By then you should hopefully have ploughed though all of these!  Thanks to everyone who brought these articles into being.