21 Apr 2009
The Big Energy Shift and Discussing Peak Oil with Ed Milliband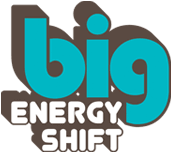 I travelled to London yesterday for an event which was part of the Big Energy Shift (BES). BES was commissioned and supported by the Department of Energy and Climate Change, the Northern Ireland Executive and the Welsh Assembly Government and was facilitated by Ipsos Mori. Over the last few months, members of 9 communities in England, Wales and Northern Ireland have met for a series of facilitated "deliberative discussions", looking at the bases on which the public would be prepared to take up renewable energy generation and energy conservation. Yesterday's meeting was the last in the series, and brought representatives of all the communities involved to London. It was a fascinating day.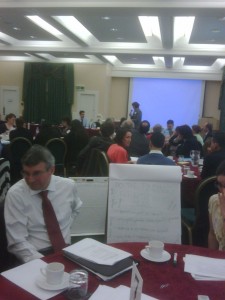 Now you might think, and I might well agree with you, that we need more consultation and thinking about what to do about climate change about as much as people on board a sinking ship need in depth 'deliberative discussions' about whether the seats in the lifeboat look sufficiently inviting. In spite of that though, it was actually a rather absorbing event, with people there from a range of communities with useful insights to share with the people from DECC and other official bodies.
On arrival we were divided onto 7 different tables, each one with about 8 people on, including a facilitator from Ipsos Mori. The day was opened by Joan Ruddock MP, who said that we can't go on using energy as we have done, and that the UK faces multiple challenges, energy security, fuel poverty and climate change. Given that about 40% of emissions come from the domestic sector, we need to virtually eliminate emissions from our houses by 2050. Although there is widespread agreement on the need for action, there is less agreement on what to actually do, hence the Big Energy Shift.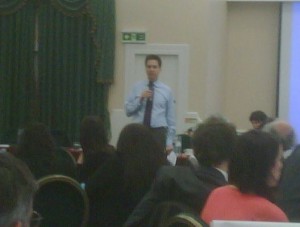 Then, in our groups, we discussed the issues raised and what we saw as being the key elements of the challenge. Then Ed Milliband, Minister for Energy and Climate Change, arrived. In his talk, he reflected on the findings that have emerged from the Big Energy Shift process so far. The key finding, he said, is that there is a huge hunger for change. There are however, within that, several key issues. One is about fairness, how to enable those who want to be part of such a shift but are not financially in a position to do so to get involved. Clearly, he said, the Government is not financially in a position to do it all alone, local authorities and businesses have a role to play, and we need to incentivise those who can afford it to do so.
The role of Government in this, he argued, is to offer information and assistance in advance of obligation, although he did not rule out that a time may come when obligation becomes necessary. He spoke of Kirklees Council as a good example of leadership producing results. There is a powerful role for local government, but also for community groups and others, to engage communities in this (he didn't mention Transition here, although he has in the past).
Another finding from BES so far has been the need for impartial advice, as people so often feel bewildered by the diversity of advice out there. Even as Climate Change Minister, he said, I sometimes find it bewildering… The next finding he mentioned was the need for the public sector to lead by example, and to walk their talk.
One of the key challenges is cost, he said, and the Big Energy Shift will not be cheap. Although the cost savings people can make through energy efficiency measures will more than pay for themselves, his department is exploring ideas such as the one whereby energy efficiency measures are linked to the house itself, in order to better incentivise them, so that when you sell a house, the repayments stay with the house.
What we are seeing at the moment, he said, is more of a focus on the economy. We need to raise awareness about climate change and keep it in front of people in order to get the wide engagement we need. The audience were then invited to write questions and put them in a box, and he then spent about 20 minutes answering questions.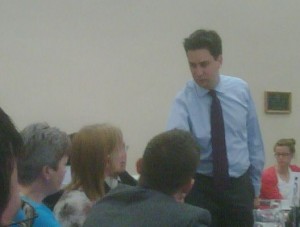 I have to say, I rather liked the guy. He was very good with an audience, walking around among them and engaging people in conversation. He was very amenable, very friendly and approachable, and liked pursuing discussions with people. So, he worked through several questions, and then said "time for one more?", and out came mine!
My question was "how can the Government still support its position that peak oil is something we don't need to worry about until 2030, in the light of the growing evidence to the contrary, such as the recent International Energy Agency World Energy Outlook report and its exhortation that "we must leave oil before it leaves us?"
"Who asked this question?" he asked. I put up my hand, and he walked down to where I was sitting. He said, as he walked, that peak oil is something on which there is disagreement from the experts, and that the tone of my question suggested that I knew what I was talking about (!) He then got to me and asked me why I had asked the question.
I said that there is mounting evidence that peak oil is an issue of profound importance and that there is less debate than he might think. I argue, I said, that when planning for the future, we need to look at peak oil and climate change together, just responding to climate change is insufficient. When we look at peak oil, we need to look at the rebuilding of resilience alongside the cutting of carbon. The challenge presented by this country's dependence on liquid fuels is huge, I said.
His response rather danced around the issues, and my account of it is compiled from near illegible notes I attempted to make as I looked the other way, trying to engage with him as he talked. Anyway, the general gist was as follows. Oil prices have recently fallen again, and this brings with it a danger in assuming that those low prices will stay, but we really cannot assume that those prices will stay low. Two things we can be certain of are climate change and the fact that demand from India and China will drive oil prices back up again at some point. The fact that oil prices will rise again is a very difficult message for politicians. What Government can do, he concluded, is to drive for low carbon solutions. We need them, we need to plan for them, and we have ensure that they are fair. What one thing would you suggest government do about the peak oil question, he asked me…
"How long have you got" I thought, but responded that the Government needs to move beyond this argument that because there is debate among experts that there is therefore not a problem. It should follow the lead set by other nations, such as Sweden and Ireland, and commission a study to set out clearly the implications of peak oil on the UK economy. I'll look into this, he replied. I intend to follow this statement up with a letter and an offer of support in their doing such a study (although of course the Peak Oil Task Force recently wrote something very close to what that study would probably look like…).
After lunch, the sessions looked at three 'stories', three different takes on what a Government-led 'Big Energy Shift' might look like in practice. One was 'Combatting the Threat', a WW2 style Government-led push with carbon rationing and public information campaigning. The second was 'Inspiring Homes of the Future', where lower energy living is presented, through a range of media, as a positive lifestyle choice, with media promoting it, TV shows pushing it, and it being seen as the next new lifestyle/consumer choice. The last one was 'Waste is Wrong', in which carbon-emitting lifestyles are penalised and demonised, with naming and shaming and an approach very much 'stick' rather than 'carrot'
Of course, these are false constructs, as any actual situation will be a mix of all of them to some degree. Discussion on my table revolved around various issues, including the use of language, and the need for Government to show some leadership and lead by example. There was a sense that guilt-tripping and fear had no place, that what would be best would be a mixture of inspiration and support. At that point I had to leave in order to make my train home, but there was just each table feeding back and then wrapping up, so I didn't feel too bad leaving!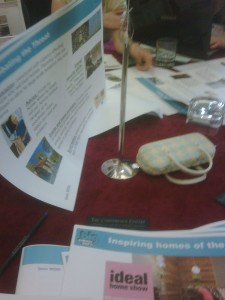 Anyway, an excellent event, and a fascinating look at where Government thinking is at. If Government was looking for a process it could point to and say "people want renewables, they want energy conservation, they want Government to take a lead on this", then they have that process in the Big Energy Shift. The questions that remain for me are firstly what is the role of community groups, who for me need to be one of the key drivers of such a process, and to what extent can more holistic thinking underpin it, moving beyond energy and buildings, to look at economies, localisation, food and so on.
Clearly talk and consultation is no substitute for a wartime mobilisation-scale response starting today, which supports, funds and removes obstacles to Transition initiatives and Low Carbon Communities doing their thing, is realistic and straight about peak oil and climate change and the nature of the challenge once the two things are looked at together, which walks its talk, and which acknowledges that we need to be planning for a more localised, post-growth economy. In lieu of that though, it was a fascinating and absorbing day.