26 May 2009
Rob's Second Transition Network 2009 Conference Post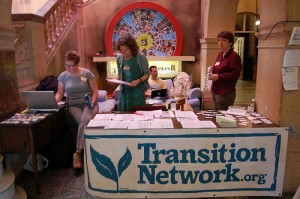 Well.  I'm home now, after the exhilarating, exhausting, bedazzling and wondrous 3 days that has been the 2009 Transition Network conference at the Battersea Arts Centre (BAC).  What a great three days it has been.  The amazing organising team, Jo, Steph and Sim (see left), Kristen and Asha, as well as the wonderful BAC team, made the event a smooth-running success, with the various events fitting together beautifully, and with amazing food.  Others have been blogging giving their thoughts on the event, so I am just going to add a few thoughts and observations of my own.
The first thing is a huge apology to everyone who logged on to see the film 'In Transition'.  We had horrible technical issues, which meant, despite Ben trying 5 different laptops and every tweak and change possible, the film refused to play with any sound.  We appreciate the disappointment, and shared it greatly.  We will show it twice next week, and the dates will be posted here on Tuesday.  So, on to some reflections….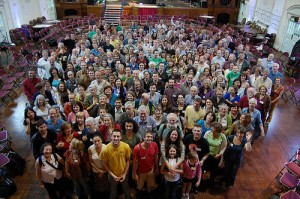 Again, I am not the best person to give a considered overview of the conference, as I don't think it was really until Sunday that I actually was able to focus on and get involved in any of the actual sessions myself.  On Saturday morning, I presented, with Mike Grenville, Charlene Collison and Jacqi Hodgson, a workshop about EDAPs, presenting the current state of play with the concept, from Forest Row and Totnes.  I then missed the subsequent Open Space session as I was doing interviews and stuff.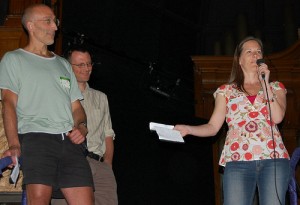 After lunch we had the premiere of 'In Transition'.  Emma Goude, Peter Lipman and I introduced the film (see left), which then ran to the packed hall.  At the end, it recieved a standing ovation, a very enthusiastic response.  In the feedback and questions session afterwards, the main question that emerged was the fact that the film presents a very white and middle class image of Transition.
Lucy Neal from Transition Town Tooting said that she would find it difficult to show the film where she is, given the lack of diversity shown in the film.  The response was that the wiki nature of the film meant that the director was only able to use the footage that she was sent, and, in that sense, perhaps the film puts a mirror up to the movement, and whether it likes what it sees or not isn't the film's responsibility.  There may yet be some changes made to the final film though, before it is released, to address this.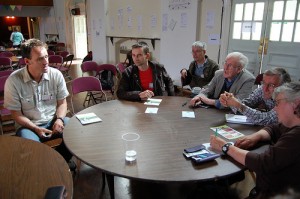 Again, I missed the next workshop session due to giving an interview to a journalist from Sweden whose every question, apart from the last one, was "some people say about Transition that….", and then some criticism of the idea, it is too naive, it will condemn the Developing World to starvation and so on… it was quite exhausting!  Then a good proportion of the participants headed to Clapham Common, some to play football, some to play rounders, and some to dance.  I played football for about half an hour, until a huge blister came up on the bottom of my foot and I had to limp off injured.  Beautiful sunny evening, and good to be outdoors.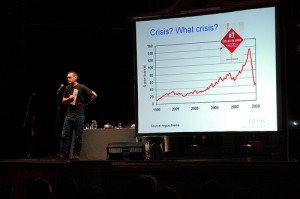 Then we were back for the evening event, 'Transition Everywhere'.  I was compering, and the first speaker was David Strahan (right), who gave an update on peak oil and why it still matters.  He argued that the current low prices are actually more harmful than the high prices we saw last summer, and that all the indications are that peak oil is still near at hand, and that the fact that the run up to the price spike last year wasn't accompanied by increased production, is one indicator that OPEC countries are unable to do so.  In the Transition tradition of turning things on their heads, the speakers were invited to ask the audience a question, rather than the other way round.  David's was "how will you continue to argue in your communities for an awareness of peak oil when the oil price is $60 a barrel?"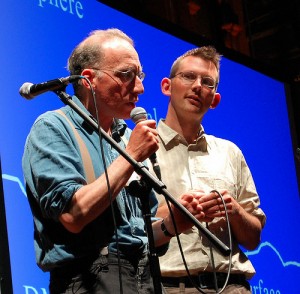 The next speaker was Stephan Harding of Schumacher College who presented a wonderful, hilarious and moving crash course in Gaian science, in spite of a powerpoint presentation that ground to a halt.  If only my science classes at school had been like this. He talked about the genesis of the Gaia concept, and about how the mechanistic, dualistic view that saw nature as being like a lifeless machine, and humanity as being separate from it, is at the heart of our current ecological crisis.  He held the audience beautifully, weaving a compelling narrative around examples of how nature regulates itself.  Wonderful.  His question was "is an understanding of Gaia essential in doing Transition?"
Then eco-psychologist Mary-Jayne Rust talked about the Resilience of the Heart, and on the subject of ensuring inner resilience.  This moved into territory that is not so often explored, and Mary-Jayne set out a number of pointers that people who are active in Transition might build into their work in order to ensure that they avoid burnout and exhaustion. Her question was included in a visualisation about what are the resources that you need in order to cope with times of change.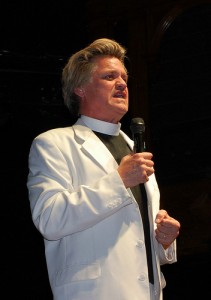 Then I gave a talk, offering an update on Transition, where it has got to and where it might go next.  The very final turn of the evening was a special surprise guest, the Reverend Billy of the Church of Life After Shopping.  The Reverend is usually accompanied by his 30 strong choir, but they had the night off.  A legend in anti-globalisation circles, Billy travels the world, holding 'services' in Walmart stores and other such churches of mammon.  In between exhortations of 'Amen!' and 'Earthalullah'!, he spoke about his recent trip to Grantham (birthplace of Margaret Thatcher), where "there were many devils to exorcise", and then their service in a Tescos in Norwich which include an exorcism of a till.  Surreal, and, I thought, very funny, although opinion afterwards was divided!
The evening wrapped up, for me anyway, in the bar with the Open Mike session.  Last year's Open Mike was a riot, given that it was residential and everyone got to stay over and party into the early hours… this years was a less well attended, with many people having to set off across London to their accommodation, but it was still quite wonderful.  Highlights were William Lana and Oliver from Lewes rapping, Rex Brangwyn's amazing 3 song set, a guy who worked at BAC who did a rap song about "put your hands in the air if you like big booty', which we assumed was a comedy routine, but by the third song it was clear wasn't, and Jo Coish, who was missing putting her kids to bed, singing the song from Mary Poppins she sings them at bedtime (aah).  I also rather enjoyed the version of 'Gloria' that Klaus Harvey and I knocked out with no rehearsal whatsoever…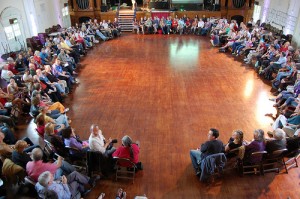 Sunday began for me with David Fleming's workshop, which I have written about below.  Then I drifted around Open Space sessions, which finished by 1, in time for the wrapping up session.  The chairs were re-arranged into a big circle (which some commented that they wished we had done at the beginning) and people were invited in pairs to reflect on what they had particularly enjoyed about the conference, what they would do differently next time, and finally, what were the seeds they were taking away with them, and what might they grow into?  These were fed back and some useful feedback heard.
The session closed with a group singing of a Transition-themed version of Janis Joplin's 'Oh Lord Won't You Buy Me a Mercedez Benz' song, with new words, composed that morning by Ben Brangwyn while cycling to BAC.  Very silly.  Then a big group photo (see above).  And that was that, with lots of hugs and smiles and exchanging of  addresses and laughter.
An amazing 3 days in an amazing venue.  The depth and breadth of the workshops was quite something, and the quality of the discussion in the Open Space sessions was quite something to see.  It feels like a huge vindication of our strategy of not doing a conference in the traditional way, that the people who come shape it and own it, and that the collective experience of trying this model out can be processed, discussed and reshaped.  We wondered if those approaches would still be able to function with such a large number of people (350), but had no reason to.  It is very powerful to be able to meet so many people out there doing Transition, and to hear their stories.  A heartfelt thanks to everyone who made this event possible, and to everyone who came.
**************************************
Scribings are being written up from the conference, there is a film bring made, there are lots of audio clips on Traydio, and some form of proceedings will follow.  You can read John Cossham's reflections on the weekend here.  Many thanks to Mike Grenville for the photos used above, you can see more of his photos of the event here.   Next year's may well be a residential, camping, more outdoors and more hands-on type affair.  Watch this space.