25 May 2009
The Wonderful World of David Fleming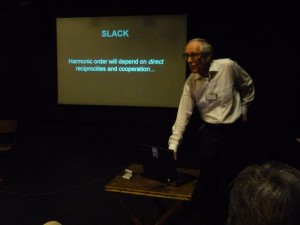 At the Transition Network conference, I was unable to resist going to David Fleming's workshop, "Wild Economics: Wolves, Resilience and Spirit".  I am an enormous admirer of the great man, who was the first person to explain the concept of resilience to me, and to whom I owe a great debt in terms of ideas and inspiration.  His talk was fascinating, but the notes I present here aren't notes of the actual talk.  There will be notes from most of the sessions published soon, although huge sympathies must be extended to the poor lady in front of me who was scribing the talk, which, in spite of regular requests to slow down a bit, was delivered at breathtaking speed.  Safe in the knowledge that noting down the actual contents was in safe hands, I focused on the bits that were pure Fleming funny bits….
These included:
"It's a good thing to avoid definitions, they only confuse things…"
"Cathedrals are icons to the practice of disposing of waste"…
"I'd be amazed if I can explain this in a way that I can understand"…
"… his idea of a forest was something resembling Hyde Park"…
At the end I asked him if he could explain why he sees resilience as being a better concept than sustainability.  Sustainability, he said, is like the idea of an unsinkable ship, a nice idea, but completely unachievable, like, he added, a spouse that would always be completely faithful.  The market economy depends on growth, and sustainability argues that we can grown AND sustain our ecology.  The concept of sustainability allows us to grow economically and polish our haloes at the same time, to have our cake and eat it.