23 Jun 2009
A Look at Peak Oil Preparation Plans from Around the World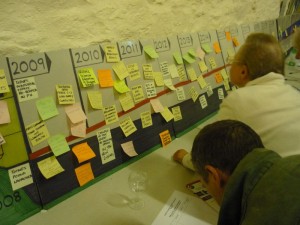 My friend Peter asked me yesterday what I thought the collective noun for curmudgeons ought to be (the context for this question escapes me…).  I had no response, so he offered his, a 'misery' of curmudgeons.  Got me thinking, as I am up to my armpits in editing the Totnes Energy Descent Plan, what the collective noun might be for Energy Descent Plans.  At the moment, I think  a 'smattering' is probably the most appropriate.  As part of the Totnes research, I have had a good rummage around, helped by the excellent Post Carbon Cities website, at peak oil plans developed thus far around the world.  It has been a fascinating process, seeing what's out there, so I thought I would share it with you.  Here is the round up of the plans I have managed to find, whether developed by community groups, local authorities or national government.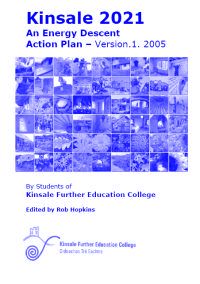 One of the first such plans was the Kinsale Energy Descent Action Plan, developed in 2005 by students at Kinsale Further Education College, which was partly responsible for the formation of the Transition concept. Frustrated at looking around the world for examples of communities taking proactive responses to the peak oil challenge, it set out to see how the town could make the move away from its oil dependency, seeing a huge potential opportunity in these inevitable changes.
The Kinsale report became a viral phenomenon, being downloaded many thousands of times. In spite of just being a student project, it seemed to capture something that other people had also been thinking about.  Subsequent plans that relate to responses to peak oil have fallen into four categories. There are those that are local government-led, those that explore the wider impacts of peak oil on society, those that look at solutions in a wider context, mostly national 'power down' style responses, and finally there are those which are community driven relocalisation plans, known also as 'Energy Descent Action Plans'.
Local Government-led Plans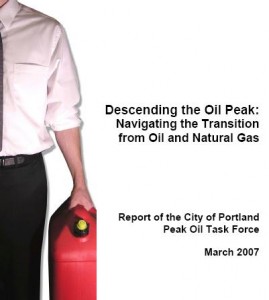 The vast majority of these have emerged from the US. The first was produced July 2007 in Portland, Oregon, and was entitled 'Descending the Oil Peak: navigating the Transition from Oil and Natural Gas', produced by the Portland Peak Oil Task Force . This was a very thorough plan which looked at many aspects of life in the area and how they could be prepared for the end of cheap oil. This was followed by a similar plan for Oakland, "The Oil Independent Oakland Action Plan" , and then in June 2008 the "Vision Plan for the City of San Buenaventura".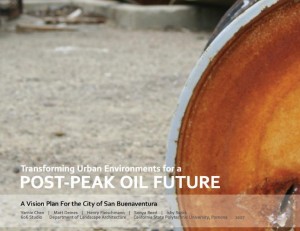 Having looked at many of these, I think the San Buenaventura plan is the best I have yet seen. It is a comprehensive and thorough document that shows what can be done when academics, architects, transport planners and cartographers come together to plan for the move away from oil dependency, although it does have some major gaps in terms of education, healthcare and so on.  I certainly found it a very inspiring document.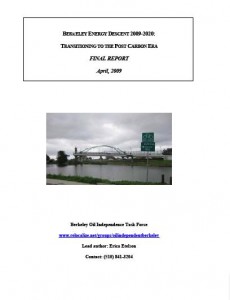 Since then, the San Francisco Peak Oil Task Force and the Berkeley Oil Independence Task Force have produced similar reports, as, in Canada, has the City of Hamilton.  A number of City Authorities have also passed resolutions about peak oil and also about climate change, including some in the UK, such as Nottingham City Council.
Reports Exploring the Wider Impacts
The British Government still takes the position that peak oil is something we need not worry about until at least 2030. Other governments think differently. In 2006, the Irish government commissioned a study about peak oil and its potential impacts on the Irish economy, and in July 2008, the Welsh Government did the same. In July 2008, the Local Government Association issued a report called 'Volatile Times' , which explored the impacts peak oil and climate change could have on local governments. It also identified the Transition movement as one of the key responses emerging across the country.
In October 2008, the UK Industry Taskforce on Peak Oil and Energy Security, which comprised leading UK industries such as Virgin, Yahoo and Arup, warned of the major challenge peak oil poses the UK economy, warning that peak oil was likely to occur in 2013, with dire implications for the UK and its business community.
Solutions in the Wider Context
A number of studies have emerged which attempt to design responses to peak oil and climate change on a national level, trying to create a bigger picture response, rather than just focused on one settlement. In 2007 , the Centre for Alternative Technology published 'Zero Carbon Britain' , which attempted to design a national energy plan, but which the UK could become carbon neutral in terms of energy generation within 20 years. In 2009, David MacKay attempted much the same thing in his book 'Sustainable Energy Without the Hot Air'.  In terms of food production, Simon Fairlie's 'Can Britain Feed Itself' paper , published in 2007, set out to attempt to see if the UK might be able to feed itself, using organic techniques. This was the first publication to ask this question in depth since 1975.
Energy Descent Action Plans
The term 'Energy Descent Action Plans', first used in the Kinsale plan, seems to have stuck for community-led plans that explore the practicalities of moving away from oil dependency. In the '12 Steps of Transition' model used by Transition groups , the final twelfth step is 'Create an Energy Descent Plan', so many groups are currently building up to creating one. The first plan to follow that of Kinsale was that of Sunshine Coast in Australia, which emerged, like Kinsale, from a sustainability course, and drew up a plan for the surrounding area, although it had a particular focus on training and education (this is not released yet).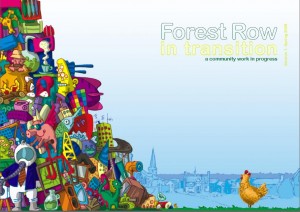 This was followed by Forest Row in Sussex, whose EDAP, called 'Forest Row in Transition: a community work in progress', was a shorter document than those outlined above, and took the form of a narrative, a story from 2030. Transition Oxford recently produced the Transport section of an Energy Descent Plan , the rest of which is, as yet, unwritten. Transition Stroud recently wrote a comprehensive paper looking at localising the food system around Stroud , which was adopted to underpin Stroud District Council's food policies. The Totnes Energy Descent Plan will be the first comprehensive, community-generated EDAP, and many lessons have been learnt in its creation that will be of use other Transition initiatives wishing to do the same. The first draft of the Totnes EDAP should be available for comments within the next month or so.
I'm sure there will be others I have missed… seen any that really impress you?  Let me know…