10 Jul 2009
Announcing the Release of 'Can Totnes and District Feed Itself?'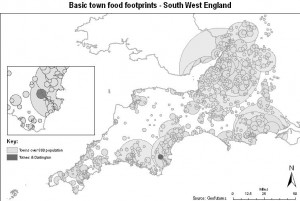 We are delighted, after many months of work, to finally announce the release of a major piece of groundbreaking research developed by Transition Town Totnes, Transition Network and Geofutures, with support from Land Share CIC, entitled 'Can Totnes and District Feed Itself: exploring the practicalities of food relocalisation'.  You can download the paper here.  The report is a key part of the Totnes EDAP, taking Simon Fairlie's Can Britain Feed Itself paper and applying it to Totnes and District. Such studies are starting to emerge in different places, Stroud have done one, Sustainable Frome (a Transition initiative) have started using GoogleMaps for food mapping, and Transition Norwich have done a 'Can Norwich Feed Itself?' study using a different methodology (which I will post when I have a link).  This Totnes study is, we think, the most comprehensive look at this question thus far, and is the first step in developing a national project and tool around the 'Can Britain Feed Itself' question.
This paper has had input from a number of people, including Simon Fairlie and Martin Crawford of the Agroforestry Research Trust.  We are deeply grateful for a grant from Landshare which made it possible.  The paper looks at the degree of food self reliance that might be possible, based on the quality of the land available, and on how it is presently used.  It reveals large gaps in our knowledge, the difficulty of establishing yields for the more complex, bespoke food production systems such as agroforestry, the potential impacts of climate change, and also the difficulty of obtaining affordable access to the range of datasets that doing this work in more detail would require.  However, we think that what has been produced is something you will find fascinating, illuminating and even somewhat sobering.  It is the first stab at research that is vitally needed across the world.
On a personal note, I would like to thank Mark Thurstain-Goodwin and his team at Geofutures for the work they have done on this.  They have put a huge amount of time into it, for little by way of financial gain, but because they passionately believe in this work.  The discussions and debates during the editing of this paper were almost as fascinating as the paper itself.  Also, working with Simon Fairlie on this has been very illuminating.  Many thanks all who have read drafts, commented, or been involved in any way.
As an interesting aside, when I showed an early draft of this to my supervisor at University of Plymouth, he looked at me across the table with a serious look and said "but Rob, this is how wars start".  After being somewhat taken aback, I responded that actually, it was when communities entered periods of food insecurity and economic meltdown without having done this thinking sufficiently in advance that wars tended to start.  'Can Totnes Feed Itself' is not about isolation, exclusion and the putting up of barriers, rather it is about the building of resilience, the building of surge protectors into our highly networked and highly vulnerable world.  This paper holds not the seeds of a return to feuding feudalism, but rather the seeds of a more localised, resilient and skilled world where we have a far stronger relationship with our food from, as Tim Lang so poetically puts it, "from farm to fart".
Please feel free to spread this paper, tell your friends and do let us know any comments, thoughts, observation or feedback.