20 Jul 2009
Dr. Brian Goodwin. 1931-2009.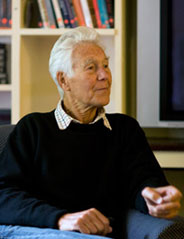 It is with great sadness that I report the passing, last week, of Dr Brian Goodwin, of Schumacher College and also Trustee of Transition Network.  Originally from Canada, he spent his career working in biology and mathematics, and was very involved in the Open University.  Upon his retirement in 1992 he became one of the founding members of Schumacher College, where he was able to focus on his passions, morphogenesis, evolution and complexity.  It was through Schumacher College that I first met Brian.  He always had a twinkle in his eye, a passion for learning and knowledge and for new ideas.  He was a passionate supporter of the Transition movement, serving as a Trustee from the outset, seeing it as the practical manifestation of complexity thinking in practice.  You can read an interview I did with him shortly after I arrived in Totnes here, and a great article he wrote about Transition published shortly before his death, entitled 'Resilience', which looked at the Transition movement.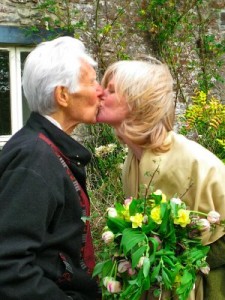 A few months ago, Brian was married to Christel, in a beautiful day's celebration at Schumacher College (see right).  In spite of his being clearly unwell, the day was a celebration of their love for each other, as well as of Brian's life and work.  Although a wedding, the day also had the feeling, to me at least, that it was his way of saying goodbye to everyone, although at the time it was intended as a goodbye due to their plans to move to South Africa.  Brian died peacefully last week from complications arising from an operation needed after he fell from his bicycle and fractured a bone in his arm.
He made a great contribution to Transition Network, both as a Trustee, and also in the extent to which his thinking around complexity and systems pervaded the 'Who We Are and What We Do' document published several months ago.  We will miss his inputs, his energy and his humour very much.  If I reach the age of 78 with the same lust for life, passion for ideas, and concern for others that Brian showed, I will consider that I have done very well.  He was a dear and brilliant man who I will miss very much and who inspired me greatly.  My deepest condolences to Christel, to Brian's family, and to the community at Schumacher College.