20 Jul 2009
A Chicken Greenhouse Update: notes from the cutting edge of permaculture inventiveness/absurdity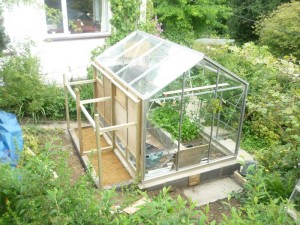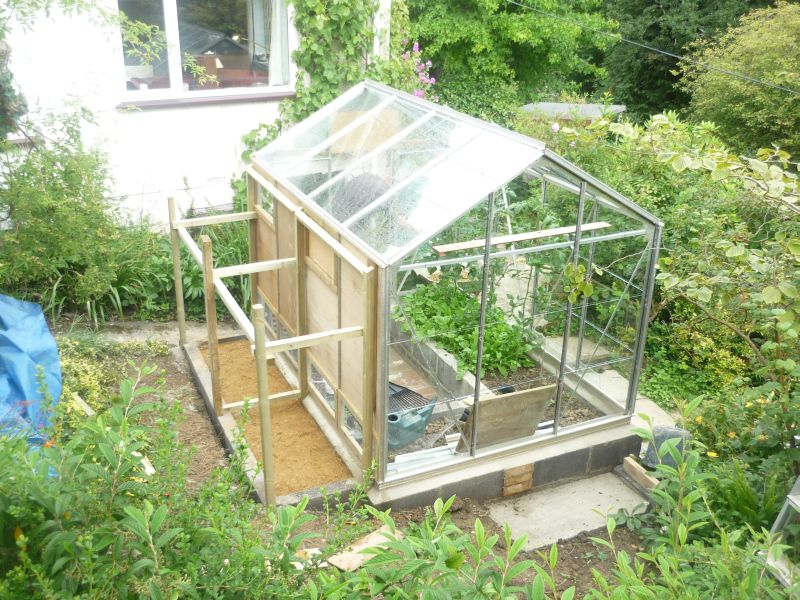 You may remember the piece I wrote a while ago about my plans to build a chicken greenhouse, and my realisation that, in spite of my having spent years teaching this design classic on permaculture courses, nobody I had spoken to had actually seen one.  The comments that followed were fascinating, although mostly they concurred, or mentioned ones that people may have glimpsed some time ago, somewhere or other.  Well, although I still don't yet have a functioning chicken house, or even any chickens for that matter, things have moved along a bit, and I thought this would be a good time to bring you up to date with developments at the cutting edge of chicken/greenhouse research.
The first gem of information which I found somewhere that I now can't find, was that 1 adult chicken gives of 15w of heat, so 4 chickens give off the equivalent of one 60w lightbulb, which on a winters night in a greenhouse is not to be sniffed at. Of course, given that greenhouses are not exactly the best insulated structures in existence, this may well all be a lot of effort for little gain.  However, I persist.
So, the great news is that after a discussion with me and a tour of my work-in-progress chicken greenhouse, my next door neighbour is now building one too, far better thought out and constructed than mine, so my little cul-de-sac is now officially the World Centre for Research into Chicken Greenhouses (or WCRCG as it is known in academic circles).  It can surely only be a matter of months before coachloads of men in white coats with clipboards are seen in the street, carefully reverse-engineering our astonishingly efficient chicken greenhouses (either that or coming to take the two of us away for our own protection).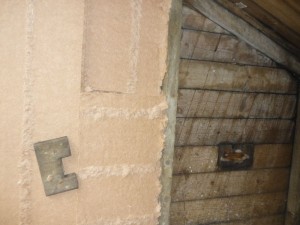 So, news on mine firstly.  I have to be honest, what what with one thing and another, not a great deal has happened since that last post.  I really need to take a couple of weeks off just to catch up on projects like this!  As readers of the previous piece will recall, I have inherited an existing chicken house which I am 'retrofitting' and making fit for purpose.  I have begun work on insulating it, using left over Pavatherm from the retrofitting of my kitchen (see right).  I will then line it with T&G boards, as Pavatherm would, I'm sure, be great fun to pick at.  The idea is to insulate the 5 sides of the chickenhouse that do not join onto the greenhouse, so that more or the heat makes it out.  This should be finished soon.  Still working on the exact connection between the two, but it will have vents that can open or close.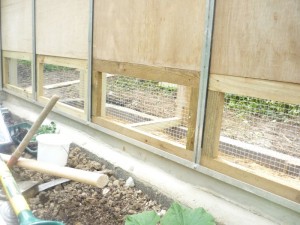 My neighbour's is a far more technically superior attempt (see above).  He was already planning to put up a greenhouse, an aluminium framed one he had got hold of, and was also planning to keep chickens, but the concept of a chicken greenhouse seems to have fired his creativity.  He glazed the greenhouse apart from the north-facing side, which he panelled instead using plywood held in place by the same clips intended to hold the glazing in. He also plans to put in place a rather impressive but low tech rainwater harvesting system. He has open-and-closeable vents at the top and the bottom (see left) which will enable him to regulate how much heat passed from one to the other.
I will keep you updated on developments.  Both of us are getting a bit late for putting chickens in them this year, but we'll see.  Any tips, thoughts or enormous research grants are most welcome.