9 Sep 2009
Kreativ Blogger Award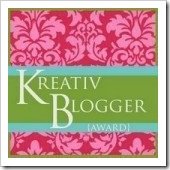 Sally Lever just nominated Transition Culture for the Kreativ Blogger award. I am honoured to accept.  This is a kind of 'chain letter' award, where people who are nominated then nominate 7 other blogs they admire. Having received it, I am now obliged to do 4 very specific things:
1. List 7 things that I love
Freshly picked sweetcorn with melted butter
Time with my family
'Metal Box' by Public Image Ltd, (not just the record but the actual metal box too)
Good compost
The first days of autumn
Transition local currency launches
Myrtus ugni berries
2. Link back to the blog that awarded it to me, which I've done above.
3. Choose 7 blogs to award as 'Kreativ Bloggers' (I am assuming that by 'blog' we mean one person's thing, so I have not included Energy Bulletin and Oil Drum, although they are among the finest out there).  So here, in no particular order, are 7 of the many blogs that I admire.  Apologies to those I have failed to include.
4. Comment at each blog to let them know they've been chosen. I will get round to that later today, promise….