28 Sep 2009
Attack of the Killer Mutant Leek Moths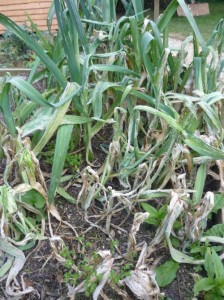 Last year I grew fantastic leeks that stood tall and proud in the garden through the winter months and underpinned many a meal.  This year I got them in good and early, and they were looking wonderful. This week though, something has gone horribly wrong. From being proud columns of dark green leeky goodness, they have begun to crumble before my very eyes. Starting somewhere around the middle, they are being turned into slimy ribbons, eventually being reduced to stumps. This is not good.  What ails my leeks?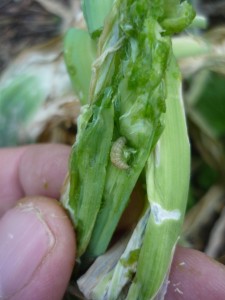 Closer investigation reveals this little fella (see right) and his mates, happily munching their collective way through what should have been my leek supply for the winter. The only suggestion as to what they were came from a browse of  Charles Dowding's essential 'Organic Gardening' book, which suggested they could be the maggots of the 'leek moth' (I already don't like it, just its name alone breeds instant dislike), or to use its Latin name, Acrolepiopsis assectella.
Given that from Dowding's (albeit brief) list  of potential leek ailments, white rot and rust were clearly not what I had, I set off to find out more about leek moths.  I popped to the website of the Royal Horticultural Society, and as soon as I clicked the link, I recoiled, there was my leek!  All dishevelled and crumbly looking!  Apparently, the leek moth has only been present in the UK since 2003, and is also rather partial to onions and shallots (you have been warned).  Originally they were just found on the coasts, but they are heading inland in southern England (the guy at GrowsonYou.com reckons he has been unlucky enough to have them on his leeks, as far north as Hereford!).  The leek moth is, of course, just one of the many species moving northwards as the climate becomes more to their liking.
Apparently, larger plants are more able to resist, but I had mine out really early this year, so that can't be it.  As I delve deeper into the murky world of the leek moth, it seems that life may never be the same again (at least not so long as I live in southern England).  Over at the Saunders Allotment website, I'm told that "realistically, if you live in an area where leek moth is prevalent the only way forward is to provide some form of physical barrier to prevent the female moth reaching the crop".  Once the maggots turn into moths, in the autumn, they overwinter, and then next year, there they are again!  Boo.
So the only thing for it is fleece apparently.  No pesticide exists, no other way of dealing with it.  They'll all have to be pulled up and got rid of.  Only thing I can think of is chicken tractoring, to get rid of the overwintering critters.  But then, if this year's gardening experience is anything to go by, I need fleece also for the carrots to keep the carrot fly out, and fleece to keep the wretched cabbage whites off my brassicas.  Might as well just cover the whole garden in it.  Perhaps I could get a grant for it under the UK Government's low carbon strategy, as all that white surface would reflect a good deal of sunlight back into space?  Didn't see it mentioned in James Lovelock's recent piece on geoengineering though…   Perhaps the leek moth, a climate change tourist, might end up triggering a collective response to climate change?  Or perhaps, more likely, just increase imports of leeks from more northerly climes.  You have been warned.