16 Apr 2010
Compost Porn for the Discerning Gardener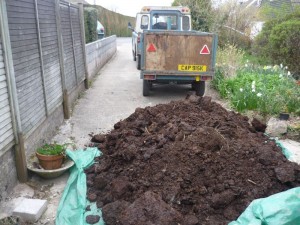 As regular readers will know, I get very excited about good compost.  It is one of the most exquisite things on earth.  Words like 'crumbly', 'friable', 'rich', 'humus' and 'moist' verge on the erotic for me, and from comments posted here previously, I know many of your share my enthusiasm for the 'brown stuff'.  Therefore, the pictures I am about to show you verge on being 'compost porn', an entirely wholesome way to set the collective pulse racing.  A bit late in the season, I finally tracked down a local farmer with well rotted muck for my raised beds.  Often such a request results in a load of barely rotted, nettle-filled stuff you have to leave to compost for a couple of years.  However, I had little idea what exquisite compost fate had in store.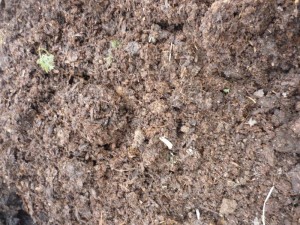 The story goes that this guy lived next door to a huge stables, and had stacked their manure for them in big heaps every year for the past 30 years.  Some of it he had on his farm, a heap of some 20 years of age.  A far bigger one stood on the main farm and he had a deal with them whereby he could sell it to local gardeners.  Then the stables was brought it, and the new owners didn't share his passion for muck, and spread the lot around the farm.  All that remained was the small amount he had on his farm, which is now nearly all gone.  I got a good trailer load for £40, and what arrived is just gorgeous.
It poured from the trailer, crumbly, dark and delicious, moist and sweet-smelling into a big pile which is gradually being transported onto the garden beds (see left).  Compared to my most recent manure-gathering experience, where I shovelled semi-rotted muck into sacks in the pouring rain and returned home exhausted, sodden and filthy, only to be met by my neighbour who gave me the phone number of the guy with this muck (might have mentioned before I set off!), this was compost heaven.  So anyway, here it is… delicious.  I just hope my veggies agree.