21 Apr 2010
"Life is a Series of Things You Are Not Quite Ready For": The Unleashing of Transition City Lancaster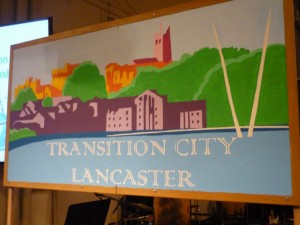 I am writing this as I travel back from a great trip to the beautiful city of Lancaster.  The reason for the trip was two-fold, firstly to co-present a workshop to the City Council, and secondly for that evening's Unleashing of Transition City Lancaster (TCL).  I arrived off the train in Lancaster at about 2pm, and met Alexis Rowell, Camden's eco-councillor and author of the forthcoming Transition Books tome on how to work with your local Council, as well as Steve and Rob of TCL.  We headed over to the Council offices to set up the workshop we were doing there for Council officers and members.
Alexis had recently co-presented a similar workshop with Norfolk County Council and so we designed a shorter version of that.  I spoke first, giving an overview of peak oil, climate change and Transition, and then we divided participants into smaller groups to think about what Lancaster could be like in 2030 were it to successfully Transition.  Then the Council's climate change officer talked about what they are doing, and Steve talked about TCL's work.  Then it was over to Alexis, who talked about what a Transition Council might look like and offered examples of best practice from across the country.  His story is one of the blood, sweat and tears it takes to make change happen within a Council, but also of what is possible at that level.  Finally, they got back into groups to look at what the Council could do to embed Transition in its work.
Then we were off to an amazing Indian restaurant, the Sultan of Lancaster (who have a rather odd, sparse website), where we met the rest of the TCL team and had the most amazing meal I have had for some time and discussed how it was all going in Lancaster in the 18 months or so since Transition was kicked off in the city.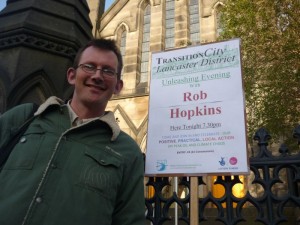 At 6.30 we headed over to St Thomas's Church to prepare for the Unleashing.  About 150 people turned up, including people from other nearby Transition initiatives, Bolton, Clitheroe, Penwith and several others.  After an introduction, I spoke for about 40 minutes.  I gave an overview of peak oil and climate change, starting by talking about the recent volcanic eruption in Iceland and how it offered, as did the 2000 lorry drivers' strike, the oil price spike of 2008 and the economic crisis of the last 2 years, an insight into how vulnerable and unresilient we have become.  Quoting Chris Johnstone (soon to speak for TCL), I said "life is a series of things we are not quite ready for", arguing that that applied to TCL's Unleashing, but also to the talk I was going to give, which was the first public outing some work in progress, the 'Transition as a Pattern Language' project that I have been working on for a few months.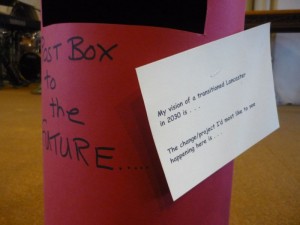 I will write more about this in subsequent posts, but in essence it is a different way of presenting Transition that goes beyond 'The 12 Steps' and offers a fuller, more usable, more integral model of Transition.  This was its first public outing, and many people afterwards said that they had found it a really insightful way of looking at the Transition work they are doing.  The 2010 Transition Network conference (June 12th-14th 2010, near Newton Abbott, Devon, put it in the diary….) will be designed around this concept too.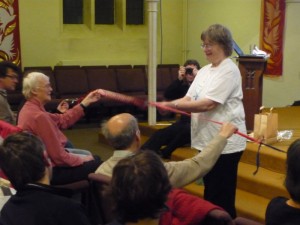 After my talk there was a brief overview of TCL's work thus far, and then a break for tea and coffee.  The second half was the actual Unleashing part, with a ceremony where small bits of ribbon around the room were tied together to make a ring encircling the audience, and then the lady who had first initiated TCL was invited, much to her surprise, to cut the ribbon to Unleash the project, to much cheering and applause.  And that was that.  Then some of us went to the pub to discuss Transition, TCL's 'Fruity Corners' project, climate scepticism and much else besides over a rather delicious local very dark stout.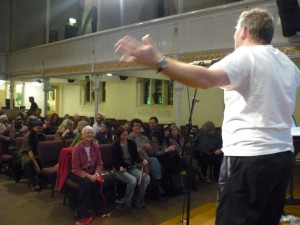 Every Unleashing is always an event that reflects the place and its culture, and this was no exception.  The weekend before my talk, TCL had held a big day-long event, 'The Big Event', which had attracted over 500 people for a day of talks, workshops and music, which sounded fabulous.  It was an honour to be able to give the project some support and to be able to learn from their experience, but to also hopefully be a part of an emergent meaningful interaction between TCL and the local Council.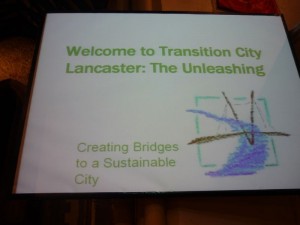 Everybody was very hospitable and welcoming.  When I was saying farewell to my host, Steve, at Lancaster Station the following morning, I said to him "thanks so much for your hospitality", and the guard from the train walked by with a smile, thinking I was talking to him, and said "well thank you very much sir".   I left with the illusion that possibly Lancaster is somewhere where people regularly thank train guards for their hospitality, a very pleasant impression of the city (Britain's smallest) to take away with me…  Many thanks to everyone who made the event possible, and for their wonderful hospitality.
A few weeks ago I also attended the launch of Transition Bro Dyfi in Machynlleth in Wales, a similarly fabulous event, but with better cake, and an amazing 'Cake Timeline' which I am trying to get someone to write up.  I am aware that due to one thing and another I didn't get round to writing that event up, but luckily Roz Brown over at Permaculture Wales did, with photos and everything!