22 Apr 2010
Transition Town Totnes Holds Its Transition Hustings Event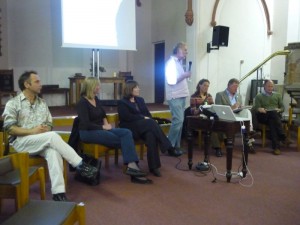 On Wednesday night in Totnes, TTT held its Election Hustings event.  By the day of the election, there will have been 7 hustings events in the area, most of them following the traditional format of candidates in a row being asked questions by the audience.  TTT wanted to do things a bit differently, so a different format was devised in an attempt to get away from the usual experience of such events, and it worked very well.
The evening, attended by well over 100 people, was chaired by Chris Bird of TTT, who welcomed the audience and the 6 candidates (the BNP candidate had not been invited and Simon Drew was unable to attend): Carole Whitty (Labour), Dr. Sarah Wollaston (Cons.), Lydia Somerville (Green), Stephen Hopwood (Independent), Jeffrey Beer (UKIP) and Julian Brazil (Lib Dem).  The first part of the evening was a short talk by Hal Gilmore about TTT, and the initiative's vision for the future of the town.  Based on the soon-to-be-published Totnes EDAP, he set out a vision of new enterprise, low carbon businesses, local food systems and community energy generation.
Then Chris called the candidates to the front of the hall, where they were invited to speak for 3 minutes on their policies, particularly in relation to the environment.  Then, after a short break, each speaker was allocated a table, distributed around the hall.  The idea was, World Cafe-style, that people could then move around the tables, and have a more meaningful and informative engagement with each candidate than in the usual hustings format.
This approach worked really well.  Discussions at the different tables were focused, passionate and sometimes a bit feisty, but the general agreement was that it led to a much more useful engagement.
Some people had come with one or two specific questions which they worked their way round asking to each candidate.  Others chose to focus on one or two candidates, and some candidates' tables were far more frequented than others.
This session ran for about 50 minutes, and then everyone was called back together again, and the candidates asked for their reflections on the process and any concluding thoughts.
Most of them said that they had found it a rewarding experience, an intense experience, but an informative one.  Julian Brazil said that he felt he was at the very green end of the Lib Dem spectrum, and that a Lib Dem vote would mean that PR would be brought in which would make it much more likely that Green MPs would get in in the future.
Jeff Beer said that he had come to the event not to speak but to listen, and that he felt he had learnt a lot, and that although many people had challenged UKIP's idea of the need for a Royal Commission to establish whether climate change is happening or not (!), he remained committed to it.  Carole Whitty said that she very much valued the work of TTT, but that the aims of the Transition movement would struggle to become reality unless economic growth were to be restored, something, she said, could only possibly happen under a Labour government.
Dr. Wollaston stated that her two key interests were to promote cycling and health issues, and that were she to be elected she would do whatever she could to support the work of TTT.  Lydia Somerville argued for people to not vote tactically, as it was a very risky strategy, but rather ought to vote for what they believe in.  Finally Stephen Hopwood stated that although he agreed with some of what TTT advocates, he is convinced that the world is actually getting colder, as proven by scientists such as David Bellamy, Peter Taylor and … Johnny Ball.
And that was that.  Everyone stayed milling around and chatting for a good while afterwards before heading out into the night.  Felt to me like a format that worked really well.  Rather than just putting your question in a hat and hoping it would get pulled out, this format enabled some much more meaningful interaction and debate.
I really valued being able to sit and discuss ideas with the different candidates.  One candidate said to me afterwards that they were really grateful that TTT had organised a hustings event, that it was a good way to raise the profile of TTT, to introduce Transition to those candidates for whom it was all rather new, and that it reinforced its position as a serious local organisation focused on encouraging discussion and debate of the important ideas of our time.